The Ugwumba Campaign Council has noticed the vandalization of her recently constructed 'Thank You' billboards mounted at Umuikaa junction.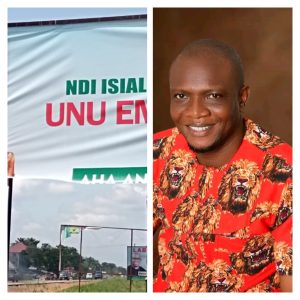 It will be recalled that on the 18th March, 2023 the good people of Isiala Ngwa South State Constituency came out en mass and voted for their worthy son, Hon. Dennis Rowland Chinwendu as the Member-Elect, Isiala Ngwa South State Constituency in the House of Assembly.
We totally condemn in strong terms the act of vandalism by the opposition, decrying the move as 'an egregious escalation of abuse and disregard for the law, which was perpetrated yesterday 27th April, 2023 by some suspected thugs and miscreants. It is also on record that this is not the first time the campaign billboards of Hon. Dennis was vandalized.
These hardened thugs and recalcitrants, from the deftness and nimble dexterity of their expertise in climbing the billboards and clinically carrying out their nefarious actions, were definitely sponsored by the opposition with specific instructions to destroy only our billboards.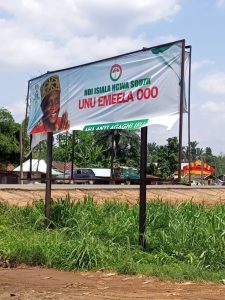 There is a very clear indication that this crude, anti-democratic demonstration of unprovoked, unnecessary violence is happening when the good people of Isiala Ngwa South State Constituency are happy and rejoicing over the victory of their worthy son, Hon. Dennis Rowland Chinwendu.
Let's state categorically that no individual, group, or political party has a monopoly of violence, but as a responsible campaign council, we have embraced the truism that post election is not war and there is no need to invoke the Code of Hammurabi in the most peaceful Local Government in Abia State.
The council also called on the Abia State Commissioner of Police, Mr. Mohammed Bala and other security agencies in the State to warn those criminal elements from carrying out undemocratic attitude to avoid any further provocation and confrontational situation that might culminate into breakdown of public peace in the state.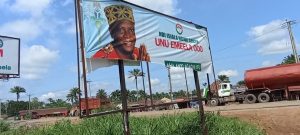 It is even more unfortunate and worrisome, that this unwarranted act of unbridled violence, is happening few weeks to the inauguration of Hon. Dennis Rowland Chinwendu as the House of Assembly Member of Isiala Ngwa South State Constituency.
Please be warned!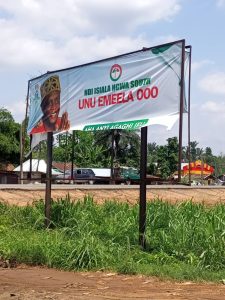 Chinonso Nwaeze
Director, Media and Publicity
Ugwumba Campaign Council