A group under the aegis of Civil Society Coalition for Judicial Reforms has dragged Justice D.E Osiagor of the Federal High Court, Umuahia Judicial Division before the National Judicial Council (NJC) over allegation of bias in the case with suit No FHC/UM/PET/02/2018 filed on 23rd July 2018.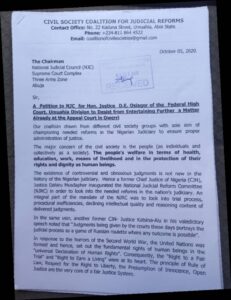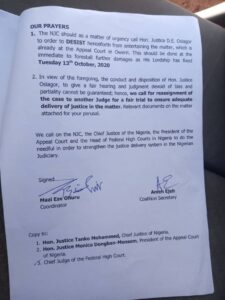 The group said the conduct and disposition of the judge to give a fair hearing and judgment devoid of bias and partiality in the case cannot be guaranteed.
The Coordinator of the group, Mazi Eze Ohuru, while addressing a press conference in Abuja yesterday called for the reassignment of the case to another judge for fair trial and delivery of justice.
He also called on the highest judicial body to call the judge to order to desist from entertaining the matter which Justice Osiagor has fixed the hearing for Tuesday 13th October 2020.
The matter involves Chima Nsudum who was then the Managing Director of Davebenlin Nig.Ltd (a company of his late father ) who had filed a suit for the 'winding – up of the company' due to some unresolved disputes with his siblings over the management of the firm.
Meanwhile, his brothers (Ihenacho Nsudum and Chisom Nsudum) who are also members of the Board of Directors of the company opposed the idea of winding – up the company.
The group accused the trial judge of transferring the matter to his private chamber from the regular court, claiming to offer alternative dispute resolution.
The petition said "He removed Mr. Chima Nsudum as the Managing Director of the company and mandated Barr. Nnamdi Eluwa who was a close friend of Barr. Emeka Nnaji ( lawyer to Chima's brothers, to appoint Maxwell Ugochukwu as Managing Director of the company"
The group explained that despite the notice of motion for stay of proceedings pending at Appeal Court, Justice Osiagor insisted on hearing the motion filed Davebenlin.
"The whole court was calm when Mr. Chima Nsudum's counsel challenged Justice Osiagor reminding him that he had no jurisdiction in hearing the matter any longer but His Lordship did not listen to the plea of the learned counsel but went ahead to adjourn the matter to 13th of October 2020.
The group therefore prayed that,; "The NJC should as a matter of urgency call Justice D.E Osiagor to order, requesting that he should be made to desist henceforth from entertaining the matter which is already at the Appeal Court, Owerri, Imo state and prayed this should be done at the immediate to forestall miscarriage of Justice and to forestall the cause of further damages to Mr. Chima Nsudum as his Lordship, who had already taken sudes has fixed 13th October 2020," Ohuru added.
Efforts by newsmirrorng.com to speak with the trial judge didn't yield any result as at press time.
We shall update you on the outcome of the matter in due course.
Efforts to reach Justice Osiagor for a reaction on the allegations were not successful.