They want me dead. I am receiving multiple death threats for not giving up on President Donald Trump: Terrence K. Williams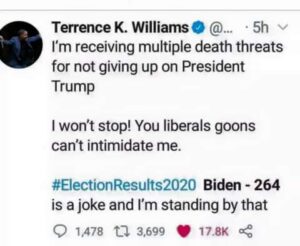 Terrence K. Williams is an American citizen born and raised in Oklahoma City in a foster home where he said he was never happy to be there but he doesn't have a choice then. His parents were never there for him as a young boy.
He became a comedian after allowing one of his videos to go public on Twitter. A video that got 2 views later got 43 million views after it was made public. That was when Terrence K. Williams discovered his talent in comedy and presently he is one of the fast-rising comedians in the United States of America.
It was this same talent that took him to the White House and since then, do to how Donald Trump treated him even though he is black, made him a supporter of Donald Trump to the extent that some people wants him dead for refusing to give up and stop supporting President Donald Trump.
This was what he once twitted. I met this man and he is truly the best! There is not one racist bone in his body. He has fought hard for the black community and everyone in America.
This was what he twitted today about the people that want to kill him: I am receiving multiple death threats for not giving up on President Donald Trump. I won't stop! You Liberals goons can't intimidate me"