The remains of the five friends burnt to death in a ghastly car accident while heading to Kaduna state for their friend's engagement ceremony, were laid to rest on Sunday, April 11 in their Adamawa home state.
The tragic accident occurred on Friday, April 9.
The men have been identified as Mwaniya Japhet Gajere, Samson Eric Gandapa, Isaac Dauda Shingu (Ajebo), Hyelakidati Samuel Hananiya (World Best) and Jackson Lumanyi (Lumex).
Meanwhile, friends, colleagues and family members have continued to mourn them on social media.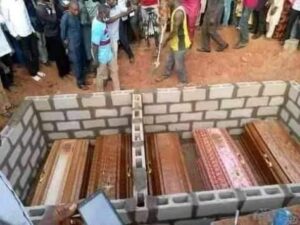 What a tear-evoking incident! What an unpredictable life!