A 28-year-old Nigerian woman Oge Florence was arrested for allegedly stabbing her Boyfriend to death after they had a fight at her house in southwest Delhi's Vipin Garden.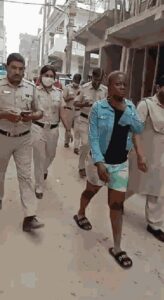 While the victim has been identified as Obinna (30), who ran an export business in Uttam Nagar, his girlfriend, manages a general store. Both of them are from Anambra state
Police got to know of the incident from an Uttam Nagar hospital, where he was declared dead.
Soon after, the girlfriend was arrested and the kitchen knife used in the crime was seized.
The woman has told police that she stabbed him on his neck after he assaulted her.
A police officer said, "The couple was living in India for three years. We haven't been able to ascertain why they had the fight. But further investigation is underway."
A friend of the deceased, Don Mikky, shared videos from the scene showing the suspect being led away by the police, adding that he had repeatedly warned Obinna to focus on making money instead of love.
He wrote;
"Obinna see what you did to yourself I personal told you that this is india we came here to find money not to find love.
if is true that this girl is the one that killed you that means you are a fool you did not do like real Uli son from Ihiala L. G. A. Shame to you wherever you are I will stop here."