There was tension on Friday evening when gunmen reportedly kidnapped John Ugorji, the owner of Johnny Supermarket and Pharmacy at the popular Ikenegbu Layout in Owerri, the Imo State capital.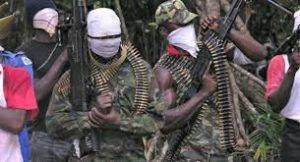 According to a source, the abduction happened between 10 pm and 11 pm while Ugorji was driving home in his SUV.
Ugorji, a native of Umueshi, a community in Ideato-South Local Government Area of Imo State, reportedly resisted being kidnapped, which prompted the bandits to shoot erratically into the air, causing bystanders to flee for cover.
Narrating how he was kidnapped by the gunmen who arrived in two cars, the source said: "He was approached at his drugstore, but when one of his car's tyres got stuck in a gutter, he attempted to run from the gunmen. They dragged him out of his car, shoved him into theirs, and sped off to an unidentified location.
"The kidnappers have not yet contacted the family members. We hope they will spare his life and let him return home unharmed."
The Imo State Police Command spokesperson, Henry Okoye, confirmed the report.
According to him, the command received a distress call from an eyewitness that armed men had dragged a man out of his vehicle and taken him hostage at Ikenegbu, Owerri Urban.
"Operatives of the anti-kidnapping squad were swiftly marshalled to the scene. Unfortunately, the hoodlums had already escaped with the victim before police operatives arrived," Okoye said.
"The victim's family is yet to make an official report to the police. However, discreet investigations are ongoing for the rescue of the kidnapped victim and the arrest of his kidnappers," he stated.