Months after the death of Prophet Temitope Balogun (TB) Joshua, his church, the Synagogue Church of All Nations (SCOAN), has been thrown into a serious leadership crisis.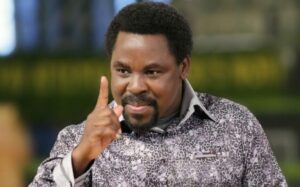 Recently, the deceased's wife, Evelyn Joshua, emerged as the church's new leader.
However, some disciples in the church rejected her leadership, claiming she was not a pastor and her late husband did not want her as a successor.
On the other hand, the church's new leadership accused the disciples of fraud. In a report by The Punch, Pastor TB Joshua's daughter, Promise, said the atrocities committed by the disciples, including a member of the Board of Trustees named Joseph David, has been exposed.
She explained that the family saw CCTV footage of some persons moving money from the church, claiming that some of the drivers involved in the act had made confessional statements indicting the disciples.
The disciples however, said they were innocent and did not commit any fraud. David claimed the widow was using law enforcement agencies to threaten them, adding that they have gone into hiding.
In its report of the unfolding crisis, The Nation stated that a letter by the (Economic and Financial Crimes Commission (EFCC)'s Lagos state zonal commander, Ahmed Ghali, said 20 disciples are being investigated for allegedly syphoning funds and breaking the church's vault.
Those under probe are:
Obasa Damilola
Tinuola Obasa
Folake Mosun
Adeloju Yakubu
Abeni Omoitoh
Omoye Adebola
Olamide Morenike
Bousso Racine
Eugune Rademeyer
Cindy Elizabeth
Widjaja Fanny
Elma Alfred
Angela Marie
Brandt Graham
Nadine Tonge
Christopher Catherine
Ann Farr Enrique
Miguel Olayinka
Deborah Egbejobi
Mari-Anne Uchechi Ibe David Omojevbe Joseph Tonge Ruth Polo Sandoval Allison
By Sandra Priscilla
Nation Scoops Nigeria Editor