A 20-year-old Faith Dechi of Ikukkumung area in Jos, tragically ended her life by drinking a substance called sniper.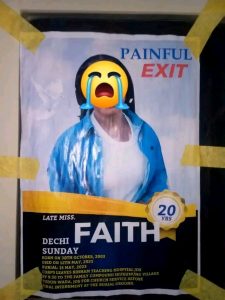 According to our anonymous sources, the incident allegedly occurred after she had a disagreement with her boyfriend, who happens to be a Low-cost based security guard. They disagreed over continued contact with her ex-boyfriends.
Despite her boyfriend's warnings, she refused to stop communicating with them. Eventually, the boyfriend asked her to leave his house, this prompt her anger, thereafter consuming sniper, an insecticide which led to her de.ath.
Her burial took place on monday, May 15, 2023.