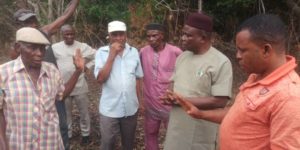 In line with the directives of the Agricultural loving Governor, Okezie Ikpeazu PhD, to partner with relevant private and governmental agencies.the Abia State Agricultural development programme (ADP) Hon Uko Nkole and Anambra Imo River Basin has synergized together towards the actualization of the Songhai farm Project .
The honourable member Representing Arochukwu/ ohiafia federal Constituency Hon. Uko Nkole has pledged to work in synergy with Abia State Agricultural development programme (ADP) and Anambra Imo River Basin Development Authority to actualize their aim in Agriculture development. Hon Nkole gave this assurance when he visited the program manager Abia ADP Hon. Israel in his office with his team said it is a good idea for Abia to be given an opportunity to be part of the Songhai farm Project to enable him invest in the Agricultural sector and fast track the project to realize the vision judiciously.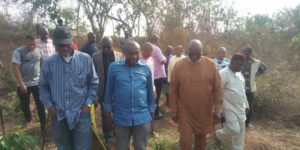 In his speech, the managing Director Anambra Imo River Basin Development Authority stated their aim to partner with Abia ADP to expand Songhai farm in the Second face in Abia State as this will attract youths back to farm and bring the desired skills of Sophisticated farming to Abia Youths in areas if Fishery, Poultry, and general Farming to Abia Youths.
Responding the Program Manager Abia ADP. Hon. Chief Israel Amanze Izybest thanked the Governor for his support and approval to partner with the relevant institutions and Government agencies for the development of Agriculture. The pragmatic ADP Program manager opined that Agriculture is one of the cardinal points of the State government. Hon Amanze described his teams visitation to Ozuabam as fruitful and that Ozuabam land is fertile for swamp rice production, and other Arable Crop production with a good accessible roads. He reaffirmed his commitment to make sure that the project is actualized.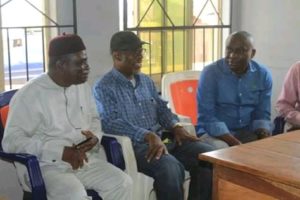 During the tour of the proposed Songhai farm site at Ozuabam,the Ozuabam community spokesman Mr Egbe thanked the state Governor Dr. Okezie Ikpeazu PhD, their son Hon. Uko Nkole and the Abia ADP PM Hon.Israel Amanze for bringing the Songhai farm to Ozuabam community and declare their total support for the project.