Senator Ibrahim Shekarau has accused Senator Rabiu Kwankwaso of disappointing him and his supporters who joined the New Nigeria Peoples Party (NNPP).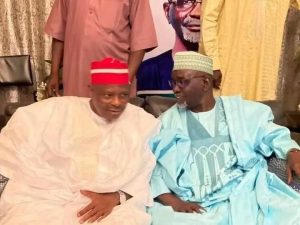 Shekarau, who dumped the All Progressives Congress (APC) at the height of the rift with Governor Abdullahi Ganduje, spoke when he met with his supporters and associates in Kano on Monday.
He accused Kwankwaso of neglecting the request submitted for inclusion of his associates as party's candidates.
He said his numerous reminders to Kwankwaso before the deadline set by the Independent National Electoral Commission (INEC) were not appreciated.
According to him, he had been consulting with Kwankwaso to carry his supporters along but to no avail.
"We consulted our brother Kwankwaso prior to even his joining NNPP when he was in PDP and I was in APC. After we agreed to join NNPP, prior to closing submission of list to INEC, we designed areas and places to field candidates for state to Federal Government. I met him alone on 5 May at about 8:30. Two of us alone, he said he'll study it and suggest to his advisory team.
"On 15th May, I went to his house and reminded him of our submission of proposal. He said that he will come and discuss with me. On 16th May, he came to my house and we discussed. He called Kabiru Alhassan Rurum, Kawu Sumaila, Abba Kabir Yusuf, and Aminu Abdussalam, he said he gave them the work and we told him we need to inject our people.
"On the 17th May, a day after, I summoned advisory team of Shura of what happened. Some said everything should be written but I said no let's have confidence and have faith in them.
"On the 18th May, after our decamping, we announced our reasons to the media and public that we ditched APC because of injustice. That day we saw list of purported NNPP candidates. On Thursday 19 May I boarded plane to Abuja and sought audience from Kwankwaso at his convenience.
"We've agreed after Isha prayer. I went to his house and told him we've seen list with my name only and Shehu Kura. What's the position of our submission? He said his four man committee will be given the work. I suggested to add four from my camp to make it 8. He agreed and we planned to fix date… On 20th May, I wrote to him what we've discussed to avoid forgetfulness in a text message.
"June 1, I reminded Kwankwaso of the committee work he promised to talk to them. On 2 June I discussed with Prof Rufai Alkali national chairman of the NNPP and I advised him to talk to Kano chair.
"On his declaration day, I reminded him of the committee pending work. Time was going, we resolved to meet alongside his closet aides Kwankwaso, Abba, party chair, Umar Muhammad, and I. The chair gave issue but said he submitted their proposal to party chair, Doguwa.
"On July 4, the chairman brought out their proposal. We added chairman to the committee making them 9. They have written recommendation for candidates from both sides. 9 of them signed and gave me a copy and to Kwankwaso.
"15 July, I printed two copies of the report and took them to his house. I gave him like 10 minutes. He said he had no objection and I said the same. He called Abba Kabir Yusuf and told me they have accepted the report and be implemented in three days. Two weeks after Abba didn't call for meeting until INEC closed submission of candidate in July and on August 12 substitution closed. Then he called for a meeting.
"After the deadline elapsed, we called Advisory committee and we set up a committee to advise us on the way forward. We accept the report on Thursday, will study and consult, and in a few days, we will announce our stand. I wouldn't have opened up if not for Kwankwaso guilty conscience that he talked to the media. We want to set the record straight on the saying that we were late. So that people can be well informed. It is better to abandon politics than to live in injustice and deception. Did we take directive before joining where we are now? Shall we then seek your permission to join others?" he asked.