More than two weeks after Arik pilots foiled an attempt by unknown men to tamper with its aircraft while on hold, a similar incident occurred on Sunday night to one of the airline's aircraft, a B737-800.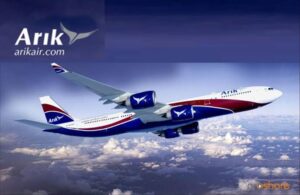 In a mandatory occurrence report form: O-OPS07 logged in by the Nigerian Civil Aviation Authority (NCAA), the incident to the aircraft with registration number 5N-MJQ happened on Sunday at 20.07.
It was gathered that the aircraft came in from Abuja on Sunday at 2000, while the report stated that on "landing at Lagos at 2000Z on RWY 18R), air traffic control instructed to expect hold position before taxiway F.
"Approaching taxiway F at a slow taxi speed, AFT Cargo door open light was illuminated at 1007Z. The crew immediately alerted ATC about it and the Federal Airports Authority of Nigeria (FAAN) security was advised.
"An escort vehicle was sent to follow aircraft to parking at GAT. On arrival at the ramp, Aft cargo door was inspected and found slightly opened," the report said.
Penultimate week, the carrier's aircraft faced a similar incident. An air traffic controller disclosed that an Arik aircraft landed at the Lagos international airport runway from Abuja and on the taxiway was advised by the tower to hold.
While holding, the captain noticed a caution light suggesting the rear cargo hold door was opened. Sensing danger, the captain was said to have added power, thereafter, the cargo hold door was closed.
He stated that immediately, the captain alerted the control tower of the situation amidst the absence of the Follow-Me or escort vehicle which it was learnt was not provided for the aircraft as it is done for all aircraft cleared to the threshold preparatory for take-off.
It is however not clear if the same escort service is given to arriving airplanes.
"The control tower was informed of what happened to Arik Air last week Thursday. The Arik aircraft landed at the Runway 18/R or what people refer to as the Murtala Muhammed International Airport runway. While taxiing, the captain was instructed to hold for another approaching aircraft.
"While holding, the captain noticed a caution light suggesting that the aircraft rear cargo do was opened. The captain alerted the control tower of the presence of people near the aircraft. It was a situation that posed a serious threat to the aircraft.
"The report of the incident is with us and has been passed to the respective authority to discourage the presence of unauthorized persons in sensitive areas of the airport," the source added.
There have been many reported cases of robbery of aircraft cargo by thieves, especially at the Lagos airport.
Most of the time, some unidentified persons find their way 'miraculously' to the holding areas, open the cargo hold of an arriving or departing jet to steal luggage. It was so common with private jets, but over time they became emboldened by extending their action to bigger commercial aircraft.