It is no longer news that Governor Okezie Ikpeazu's choice of former Vice Chancellor, Abia State University, Uturu, ABSU, Prof. Uche Ikonne, is generating mixed reactions from various  geopolitical zones of the State, even among people close to the Governor himself.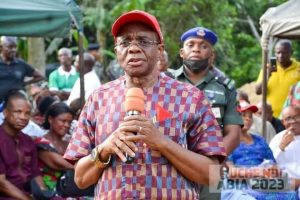 While political observers and actors in the game, continue to ponder how Governor Ikpeazu will get over this, information from credible sources who do not want their names in print, have told newsbuka.com that some persons including the Governors right hand man, Raymond Aliga, Acho Nwakanma others have signed an agreement on a percentage from security votes and federal accounts, including contracts to be given should they end up imposing Prof. Uche Ikonne on the masses.
This act alone portrays the kind of bondage Abians would be faced with should the octogenarian become the Governor and obviously Abia's allocation again would be shared among family members.
This is coming even as some persons are relieved of their duties and most others threatened when they try to speak up against the choice of Prof. Ikonne. But the question is, are Abians not entitled to elect their own Governor? Why would the Governor continue to insist that octogenarian Prof Uche Ikonne becomes the next Governor even when he has other younger candidates who can steer the ship.
With this insistence on Prof. Ikonne, it has become crystal clear as to why the Governor is insisting on a 3 Man Ad-hoc Delegate Primaries against the wishes of Abians and some members of the People's Democratic Party. The truth remains that Abians are wiser now and will go all out to resist any form of imposition of candidate.
Abia is ripe for development, imposition of candidate in any form, will continue to retard development in Abia, God's own State.
Therefore, Abians of goodwill and conscience should stand up and neglect this imposition of candidate or they will have themselves to blame for the next 8 years.
Abia must be great!
For publication of your news content, articles, videos or any other news worthy materials, please send to newsmirror14@gmail.com. For more enquiry, please call +234- 808-050-9464 or whatsapp. To place advert, please call +234- 808-050-9464.