Facts have emerged about the circumstances surrounding the arrest and repatriation of leader of the proscribed Indigenous People of Biafra (IPOB), Mazi Nnamdi Kanu, who was produced before an Abuja High Court yesterday, Tuesday, June 29, 2021, and was ordered to be remanded in the custody of the Department of State Services (DSS).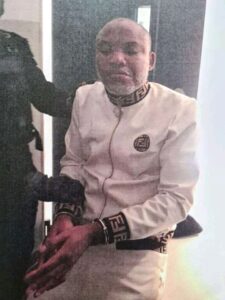 Attorney General of the Federation and Minister of Justice, Abubakar Malami, broke the news of Kanu's arrest and repatriation earlier yesterday during a joint Press Conference with the DSS and Nigeria Police. He disclosed that Kanu was arrested on Sunday, June 27, 2021, following cooperation between Nigerian security agencies and INTERPOL. However, the briefing was silent on where Kanu was arrested.
It later emerged that the IPOB leader who jumped bail in 2017 was not arrested in his UK base but in the African country, Ethiopia.
According to an exclusive report by THEWILL newspaper, the process started when in the first week of June, when "Malami, according our authoritative sources, had written a letter, through the Ministry of Foreign Affairs, to the Government of Ethiopia seeking its cooperation to help track down Kanu in the country."
"The government informed the Ethiopian Government that Kanu was on its soil and requested its cooperation with the INTEPOL," the report said.
It added that "Kanu was thereafter intercepted in Ethiopia by joint security operatives of the government and INTEPOL and extradited to Nigeria over the weekend."
The IPOB Leader is facing multiple charges in connection with his separatist campaign that has turned the Igbo heartland in the South-East into a war zone, with rampant reports of rights abuses by Nigerian troops hunting IPOB members accused of perpetrating violence- but which the group has consistently denied