Patients at the gigantic Annuciation Specialist Hospital Enugu today were ameliorated of the burden and pains of paying their hospital bills.
Thanks to the Philanthropic gesture of Fr Ejikeme Mbaka the Popular Catholic Priest and Spiritual Leader of Adorable Ministries Enugu Nigeria (AMEN)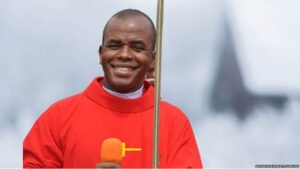 The popular Catholic Clergy today in his usual characteristics of benevolence paid off the hospital bills of the patients in Annunciation Specialist Hospital Enugu which sum up to 18.8 Million Naira.
What else can we say except
Fr Mbaka!!.
You are really from another part of the World.
You can't curse whom God have blessed.
God have really blessed you Father.
I tap your grace
https://fb.watch/6cdDL24J4Y/