A popular Pastor from Ebonyi State simply known as Apostle Emenike Samuel Ikuku of Wind Of Libration Prophetic Church is allegedly to have impregnated one of his Church member, a 17years old under aged girl (Miss Chinyere) from Nkanu Enugu state after giving her false marriage promises and now threatening to kill her if she doesn't abort the pregnancy.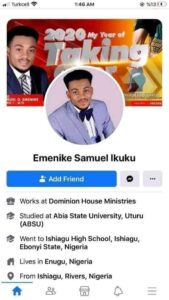 Reports said the Human Rights Defenders (HURIDE) Ebonyi chapter has taken up the case.
The Pastor is said to have since deactivated his Facebook account and other personal social media handles.