The eldest sister of the slain Akwa Ibom job seeker, Miss Ifiok Umoren, has carpeted the police in the state for arresting three but failed to parade the third suspect alleged to be instrumental to the death of her sibling.
The Akwa Ibom State Police Command had on Friday last week paraded two suspects who were Uduak Akpan and his father, Mr Frank Akpan over their alleged involvement in the murder case of Iniubong Umoren at the police headquarters, Ikot Akpan Abia, Uyo.
But, Ifiok was worried that Emem Emmanuel who began the process of luring her sister through his Twitter handle was not paraded alongside other two suspects at the police station.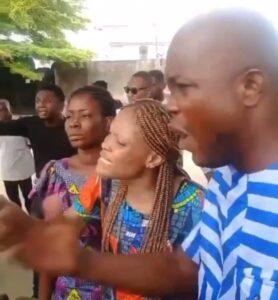 She said Emmanuel was the person who invited her sister through his Twitter handle, adding that the suspect after giving the sister hope over the phony job, dropped Uduak Akpan's number for her to call.
"The suspects arrested were three but they paraded only two which I have asked why they did not parade the third person, they said that there is an investigation that is ongoing now and they are yet to confirm the third person if he was part of them.
"I now told them that even if they are yet to do the confirmation, they do not have the final say and that it is the court who has the final say over all the suspects.
"Emem Emmanuel was the person who twitted that he has a job to give to my sister and he later dropped Uduak Akpan's number to my sister. But, after my sister was killed and the incident became public, he went and deleted all the Twitter messages he sent to my sister," she alleged.
Ifiok debunked the allegation that she had collected money over the death of her sister, stressing that she is only demanding for justice and that no amount of money from anybody could compensate the loss of her sister which she suffered to train in school.
According to her, "There is no amount of money that anyone can give me that will be enough for the death of my sister. I can never ever collect any money from anybody over the death of my sister. The only thing I am working so hard every day for is how to get justice for my sister.
"The only issue that seems as if things are not working is that judiciary is on strike. Once they are back, everything will now commence legal proceedings over the matter.
"I have not collected any money from anybody. I sent my sister to school while earning N25,000 as salary. I had suffered for her but now I do not achieve anything and it is painful to me. What kind of money can someone give to me to be equated to the loss of my sister?"
She accused the suspect of trying to hypnotise her with charm when she visited anti-kidnaping unit where he was first taken to, noting he was blocked by a nearby policeman who was there. (Blueprint)