The police have asked for more information about a man who was recorded teaching a baby how to smoke.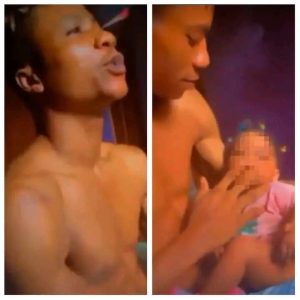 The Force Spokesperson, Olumuyiwa Adejobi, stated this via his Twitter handle on Tuesday after he was tagged to the viral video.
Adejobi said, "Everyone of us can see this again. How did he get the baby? His son? Or niece or cousin? Whatever it is, mothers must learn from this, do not entrust your baby to wrong hands. Not everyone can babysit or take care of your baby for you. We need more info about him."
In the video, the adult male was seen repeatedly sharing what he was smoking with the baby.
Credit: Twitter | Princemoye