The body of the Zambian national, Lemekhani Nathan Nyirenda, who died at the battlefront in Ukraine has arrived Lusaka, the country's capital on Sunday.
The body arrived the Kenneth Kaunda International Airport on Sunday as revealed by the family spokesperson, Ian Nzali Banda in a statement.
The Zambian Foreign Ministry also revealed that Nyirenda's body was accompanied by Zambia's Ambassador to the Russian Federation, Mr. Shadreck Luwita and was received by the Permanent Secretary Administration, Ministry of Foreign Affairs and International Cooperation, Mr. Chembo Mbula and his relatives.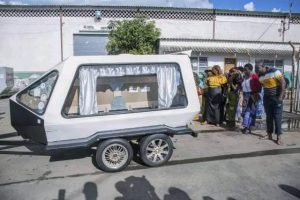 It was reported that Nyirenda, a 23-year-old Zambian government sponsored student, was pursuing Nuclear Engineering at the Moscow Engineering Physics Institute in the Russian Federation, when he was jailed on drug allegations. He was reportedly released in August after serving two years of his nine-year jail term. He died in battle in September. His family and country was informed about his death in November.
Credit: AFP, Facebook | Zambians In Moscow