Attorney-General of the Federation and Minister of Justice, Abubakar Malami (SAN), on Monday slumped before being revived during an official assignment in Sokoto.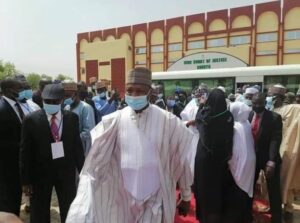 He was immediately surrounded by anxious aides and dignitaries who raised him up from the ground after successfully reviving him.
Malami, who recently returned from an official visit to Turkey was in Sokoto for the inauguration of the reconstructed State High Court complex.
THEWILL learnt that the Justice Minister, whom witnesses said looked exhausted after his speech, collapsed and was revived.
A closed source to the AGF who confirmed the incident to THEWILL said he was currently at a hospital in Abuja after he was transported sick from Sokoto.
Malami, along with the Chief Justice of Nigeria, Justice Ibrahim Tanko, was in Sokoto on Monday to commission the reconstructed State High Court complex.
THEWILL