Hakan Aysal, 40, is accused of throwing his wife Semra Aysal, 32, off the cliff-edge while on holiday in Butterfly Valley, south-eastern Turkey, in June 2018. Mrs Aysal and their unborn child, who she had been carrying for seven months, were killed instantly after falling almost 1,000 feet.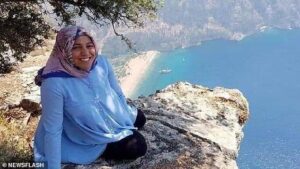 The last images of the couple taken together show them smiling on the sunny clifftop, moments before the tragedy, which Aysal claims was an accident. But prosecutors allege Aysal planned the killing to cash in on the personal accident insurance he took out on his wife's behalf before her death, worth TRY 400,000 (almost £41,000), for which the 'only beneficiary was himself'.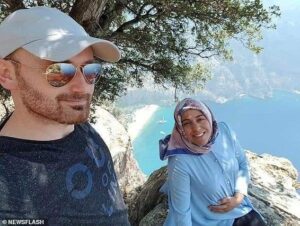 The indictment stated Aysal had claimed the insurance payment shortly after her death, but it was declined when news of the investigation was unveiled.
Prosecutors claimed that the only reason the couple sat on top of the cliff for three hours was so he could make sure no one was around.
As soon as he realised they were alone, he deliberately killed Mrs Aysal by pushing her off the cliff, they allege.
In a video interview presented to the court, the victim's brother, Naim Yolcu, said: 'When we went to the Forensic Medicine Institute to get the body, Hakan was sitting in the car. 'My family and I were destroyed, but Hakan did not even appear sad.'
He added: 'My sister was always against taking out loans. However, after she died, we learned that she had three loans taken out by Hakan on behalf of my sister.
'Also, Hakan had a fear of heights, what extreme sport is he going to be doing when he is scared of heights?'
UK METRO