It was the burning desire to use art as a medium to assemble the youths and provide a platform to display and promote talent that birthed the event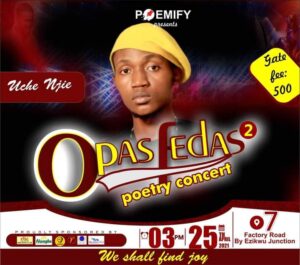 OPAS FEDAS POETRY CONCERT which means HOPE HAS FEATHERS a concert focusing on rewriting every sad songs and preaching hope.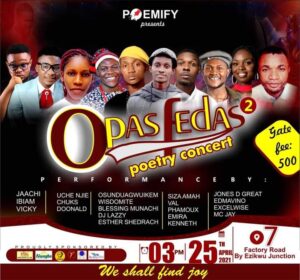 Our first outing was on April 28th at Abiapoly which saw an amazing overflow of responsive audience and hence we continued with a mountly program called ABA STORYTELLING HANGOUT , to discuss engaging topics , share ideas and support our crafts and in no time the idea broadened to create a bigger platform for young minds to express themselves with the use of POETRY and hence,
WE SPECIALLY INVITE YOU FOR
THE SECOND EDITION OF OPASFEDAS
which will hold on 25th of April 2021 featuring The best of the arts in Comedy, music, poetry and dance.
Time is 2:pm at 7 factory Road, By Eziukwu Junction, Aba
This seasons event comes with a ticket pass of #500 regular and #2000 for couples.
Don't miss out…it is going to be a full premium pack of all round entertainment to trill the audience.
You can impact life positively by buying a ticket for a friend, family member or loved one.
Blessing Nwagba Foundation partnered with us by providing the auditorium of this season's event at no cost.
You too can make a difference in this epoch making art event and positive life changing program by partnernig with us or paying for tickets for some people.
For Partnership/Sponsorship/ buying of tickets call UCHE NJIE ON 0906 119 8461 OR JAACHI ON 0706 498 2214
We know that Hearts don't break around us, and as you support this movement, you shall find lasting joy
JOIN US AT OPAS FEDAS AS WE HELP TAKE OUR YOUTHS OUT FROM THE STREETS BY ENGAGING THEIR MINDS POSITIVELY, FOR THE BETTERMENT OF THEIR IMMEDIATE CONSTITUENCY AND SOCIETY AT LARGE
Thank you.