The Nigerian Medical Association has condemned the gruesome murder of one of its members, Dr Uyi Iluobe in Oghara, Delta State.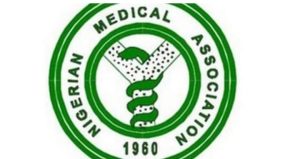 Calling on the State government and Inspector-General of Police to bring the perpetrators of the murder to book, NMA disclosed that Iluobe was allegedly killed by the relatives of his patient at a hospital in Oghara on December 31, 2022.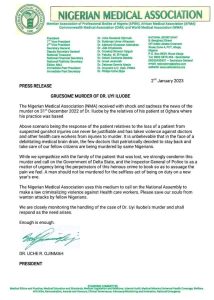 NMA in statement on Monday, issued by its President, Dr Uche Ojinmah, demanded the criminalisation of violence against healthcare workers in the country.
The statement reads, "The Nigerian Medical Association received with shock and sadness the news of the murder on December 31st, 2022 of Dr Iluobe by the relatives of his patient at Oghara where his practice was based.
"The above scenario being the response of the patient's relatives to the loss of the said patient from suspected gunshot injuries can never be justifiable and they have taken violence against doctors and other healthcare workers from injuries to murder.
"It is unbelievable that in the face of a debilitating medical brain drain, the few doctors that patriotically decided to stay back and take care of our fellow citizens are being murdered by the same Nigerians.
"While we sympathise with the family of the patient that was lost, we strongly condemn this murder and call on the Government of Delta State and the Inspector-General of Police to as a matter of urgency bring the perpetrators of this heinous crime to book so as to assuage the pain we feel. A man should not be murdered for the selfless act of being on duty on the New Year's Eve.
"The Nigerian Medical Association uses this medium to call on the National Assembly to make a law criminalising violence against healthcare workers. Please save our souls from wanton attacks by fellow Nigerians.
"We are closely monitoring the handling of the case of Dr Uyi Iluobe's murder and shall respond as the need arises. Enough is enough."