Expectedly, my piece of advice to Dr Eme Okoro titled, Must Dr Eme Okoro Fume Before Making His Point?, dated 24th January, 2022, appears to have heated up much consciousness within the Abia political firmament.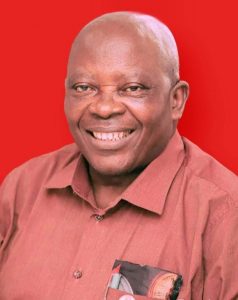 Before going into details of my response which I would like to make as brief as possible, I consider it necessary to introduce myself. To that effect, I am Sir Don Ubani, Okwubunka of Asa Gburugburu and Oke Amadi Nd'Asa, a son of late Chief Emmanuel Wigwe Ubani, an indigene of Umuiku-Isi-Asa Autonomous Community in Ukwa-West Local Government Area. He was a successful Produce Merchant. My late Mother, Chief (Mrs) Mary Josephine Wugo Kanu-Emmanuel Ubani, a Woman that distinguished herself in Crayfish trade and former Woman Leader of defunct Nigerian People's Party, NPP, in the Old Ukwa Local Government Area, hailed from Umugo in Ugwunagbo Local Government Area. Her late Father, Mazi Kanu, was a Colonial Court Clerk in Ugwunagbo Native Administration. My late father's Mother, Daa Onyidia, hailed from Umuocho-Umuakpara in Osisioma-Ngwa Local Government Area. The late Mother of my Grandfather, Okeamadi Ubani, hailed from Umuagbai in Osisioma-Ngwa Local Government Area. My wife, Lady Anthonia Ubani, hails from Umuochi in Eziama-Ntigha in Isialangwa-North Local Government Area. I am roundly blue-blooded. I hope the significance of being blue-blooded is not lost on any reader here. By the way, I am a Teacher and courageous prolific veracious writer. I am a Knight of Saint Christopher of the Anglican Communion and a Justice of the Peace of Abia State Judiciary.
As a Child, I think the first dialect I heard must have been that of Ngwa of Igbo Language. Even though my late Father was a strict disciplinarian, my late Mother asserted a lot of her Ngwa influence on me, none that I have, so far, regretted.
Whoever that takes time to digest my self-introduction could now be in a position to say if what happens to the Ngwa concerns or does not concern me.
For purposes of clarity, I am writing this piece in my individual capacity as a Principal Stakeholder in the Politics of Abia State.
At least, it is on record that I was once an elected State Chairman of the defunct United Nigeria Congress Party, UNCP, in Abia State. I am not, in any way, a Taata.
I did not write to insult Dr Eme Okoro. I only asked a rhetorical question after reading his outburst in the Vanguard Newspaper of Sunday 23rd January, 2022 in which he vainly tried to intimidate the State Chairman of the Peoples Democratic Party, PDP, in Abia State, Dr, The Rt Honourable Asiforo Okere, supposedly for not keeping to an appointment he claimed was given to 'respected elders' of Abia-North. He questioned where Dr Asiforo Okere was when PDP was formed and demanded an apology from the Chairman.
Of course, I told Dr Eme Okoro that he was not, in anyway, visible when we formed PDP in Abia State. I attended many meetings in Abuja and participated in many consultations here in Abia State. There was nowhere and time that I saw him. In almost all the meetings we had in Abia State as prelude to the eventual Formation and Convening of PDP, I was the Compere. If Dr Eme Okoro could benefit, as he has, from a Political Party he played no role in its founding, what moral justification has he to ask Dr Asiforo Okere where he was when PDP was formed. I now ask Dr Eme Okoro where he was when I and twenty other Political Leaders Convened PDP in Abia State?
I only wanted to make him understand that at his age of close to 80, there are civil and polished approaches to resolving issues instead of taking to the street and behaving like a militant. Though Dr Eme Okoro is characteristically intemperate and often belligerent, I am of the opinion that at his age, he should have outgrown such misdemeanor.
The matter that made him go berserk was one that could simply have been resolved through a telephone conversation or a brief visit to the Office of the Chairman of the Party. It was, therefore, disreputable for an elder in the category of Dr Eme Okoro to have resorted to making a Mountain out of a mere mould. For goodness sake, any Elder that is worth his salt, should learn how to conduct himself properly.
On his claim of Equity for Abia-North, I have to remind Dr Eme Okoro that our Great Party, PDP, failed abysmally in his Ozuitem Polling Unit in 2015. Worse, in 2019, Dr Eme Okoro was reported to have fled from his Polling Boot because of his unpopularity in Ozuitem. He could not even vote! What then gives him the impetus to assume he is qualified to lay any claim to Equity?
Since after my published piece of advice, which I offered him pro bono, many respectable and respected persons from Abia-North have called to inform me that the so-called appointment Dr Eme Okoro claimed to have been botched by the Chairman of PDP in the State was not even known to the majority of Elders of Abia-North. I was reliably informed that Dr Eme Okoro had wanted to use the appointment only to advance the inordinate governorship aspiration of a particular politician from Abia-North. So, it was obvious Dr Eme Okoro did not have Abia-North in mind but only wanted to resort to mere iridentism and sophistry in order to give a false impression of being a defender of Abia-North's interest.
Some credible sources in Abia-North are said to believe that Dr Eme feels deeply injured with the selection of Professor S O Igwe as representative of Bende Local Government Area in Elders' Council of PDP in the State. He does not know why it should not be him. His annoyance is even more aggravated for not being re-appointed the Secretary to the State Government.
Dr Eme Okoro should better realize and soon too that he does not and can not ascribe to himself the monopoly of intemperance and violence. That he depicts outright disregard and rudeness to his brothers of Abia-North should not, at all, give him the inkling to assume the unadvertised role of a Village Headmaster.
On the threat to my Life by the immediate past Governor of Abia State and his son, through his Liaison Officer, I only want to say that their penchant for brutality and heinous activities are well known even in their nativity.
Intelligence I have is that the son summoned and presided over a meeting last night, during which he gave money to his Cyber Bullies to unleash attacks on me. The Bullies were also instructed to recruit as many other Cyber Attackers as they could. He boastfully told them that he had unimaginable amount of money to play with.
The same intelligence revealed that, with unbridled arrogance, he told his audience, that as long as money is concerned, nothing will deter him from being the next Governor of the State. He is 'God' and, so, has the power of Clairvoyance! Only time will prove if he is, indeed, God or not.
The most important aspect of the Intelligence available to me is the plot to get me assassinated in Umuahia or elsewhere.
I can not be cowed down by such machination. After all, the Ex-Governor and his son are not God, even though they think they have become God.
In as much as I am not afraid of their resort to assassination or attack by their hired hoodlums, they should know, and quickly too, that they do not have monopoly of violence and brutality.
My own part of Asa is within Ariaria environ. Many people from the Ex-Governor's place are living in my area. Of course, I have communicated this threat to my life to my people. I am not afraid!
What in my said write-up will any person point out to be a lie?
When Senatorial Districts were to be created in Abia State, the former Governor in question, as an Administrative Officer in the the defunct National Electoral Commission, NEC, did everything he thought he could do to make sure that only the two Local Government Areas of Isialangwa-North and Isialangwa-South would be part of Abia-Central Senatorial District.
Of course, what he wanted was to make sure the Ngwa Components of Abia-Central Senatorial District would be a perpetual minority to be electorally squeezed and suffocated by the three Local Government Areas of Ikwuano, Umuahia-North and Umuahia-South.
But for the Courageous intervention of a prominent Ngwa Son, Dr Max Nduaguibe, who deployed benefits of his connection with the Shehu Yar'adua political machinery and included Osisioma-Ngwa in Abia-Central, no Ngwa Man would ever think of being a Senator from that Senatorial District. So, when did the desire for Equity spring up in the Ex-Governor?
For purposes of emphasis, I reiterate that everything I wrote in my essay, Must Dr Eme Okoro Fume Before Making His Point? stands.
Sir Don Ubani is a former Commissioner for Information and Strategy in Abia State and writes from Asa.