The visit of Governor Charles Soludo of Anambra State to the leader of the Indigenous People of Biafra, Nnamdi Kanu, on Friday, has elicited mixed reactions on social media.
Soludo shared pictures from the visit on Sunday.
While some social media users praised the move, others doubted the sincerity of it.
Lawyer, Simon Ekpa, has a message for Soludo. He said, "Tell Soludo that we are not doing FOTO freedom fighting, the only broadcast we will listen to is freedom broadcast. Only when MNK broadcasts to us from his house in Afaraukwu or somewhere else, we will not listen to any broadcast from the courtroom. We know their next plan."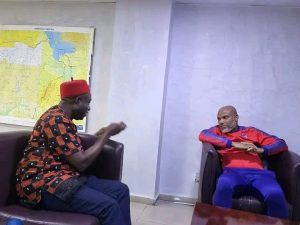 Entrepreneur, Noble Igwe, has only praises for Soludo's move, saying, "I love Charles Soludo and his willingness to save Anambra State."
Gamechanger tweeted, "At last Soludo has realized that Mazi Nnamdi Kanu is a key figure in restoring peace to South East, I don't trust Soludo but he's made a very good step. He should know that we will only listen to Mazi Nnamdi Kanu as a free man and not as a prisoner."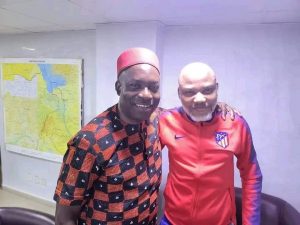 Uche Ezeonye hailing the visit said, "Good news!
His Excellency Gov Soludo visited Mazi Nnamdi Kanu in prison. What Obiano and Eastern governors never did, Soludo did it within two months. God bless you. South-East will bounce back again and peace will return…East will jubilate at last… 🙏🙏 #CCSoludo"
Gerald Reuben tweeted "If #CCSoludo could take pictures with our leader, Mazi Nnamdi Kanu, I would like to see the video of their discussion too!"