It was an epoch making event as Mbutu Ngwa Redemption Youths paid a courtesy visit to the Program Manager Agricultural Development Program Manager Chief Israel Amanze AKA Izybest in his country home Mbutu Ngwa Amankwo .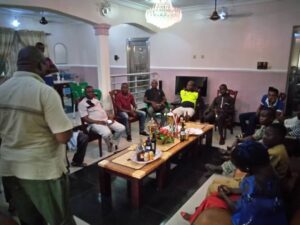 In his speech the President Mbutu Ngwa Redemption Youths, Hon. John Onwumelu eulogized the track records of Chief Israel Amanze towards ameliorating the hard times faced by the youth, he said that the youths of Mbutu Ngwa can not forget how Chief Amanze attracted the a state of the art skill acquisition center, IFAD lfad-ND project in Obi Mbutu, electricity project in 9 villages in Mbutu as well as help in the empowerment of Mbutu Ngwa indigenes through various agricultural loans and grants.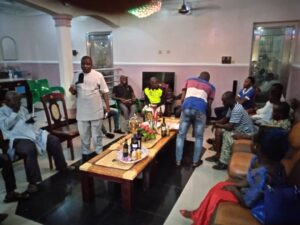 'Sir we cannot thank you enough'. Hon. Onwumelu also thanked the Governor Dr Okezie Ikpeazu for appointing Chief Amanze, which described as a round peg in a round hole and reiterated that they don't have any iota of doubt he will stop at nothing in achieving the desired results.
Chief Amanze in his response said that he was elated at the appreciations of his modest contributions by Mbutu people especially the youths. In his words, "My people it is a thing of joy that we are all alive to see a brand new year and we are praying to God that He will continue to bless and protect us, by God's Grace we are going to do more, we are going to attract more developmental projects to our Community.
We should all support the government of Governor Okezie Ikpeazu in his quest to get democracy dividends across to our people.
Other dignitaries and groups that were on ground for the NEW Year courtesy visit included the newly elected state chairman of Maize Association of Nigeria Mr Nwandinma Chibuisi, the state chairman of Ohaneze Chief Paul Nwankwo and many other dignitaries.
They youths then prayed for God's Divine protection and blessings throughout the year.