Chief Mascot Uzor kalu, the APC Candidate for Aba Federal Constituency House of Representatives Election has landed in a big trouble if Information reaching us is anything to go bye.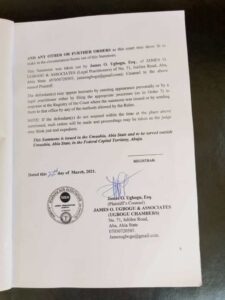 It was gathered that an Aspirant of the All Progressives Congress, Dr. Nwokeocha Ogbonnaya has dragged the self acclaimed " Nwa Aba" to court, seeking the nullification of his alleged candidature based on the method he emerged at the primary election for the 27th March 2021 bye election for Aba North/South Federal Constituency bye election.
In a case filed in the Federal High Court in Umuahia by Ugbogu Chambers on behalf of Dr Nwokeocha Ogbonnaya Eze through originating summons, All Progressive Congress (APC), Mascot Uzor Kalu and INEC were joined in the suit as defendants.
In the petition, Dr Nwokeocha Ogbonnaya Eze is seeking that APC should conduct a primary election for the forth coming bye election, that INEC should not recognize Mascot Uzor Kalu as candidate of the APC.
Recall that the purported primary election that produced Mascot Uzor Kalu recorded over 47,000 voters.
However, facts have emerged that APC members in both Aba North and South are not up to 5000 in number.