Mr Nnajiofor Donatus , a young man from Nsukka in Enugu state has been arrested for arresting their Village god known as Ibeku Opi deity.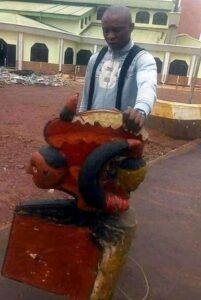 Donatus was allegedly arrested by the local vigilante in Nsukka for arresting a communal deity which he insisted had been tormenting his community with poverty, failure of businesses, and lack of marriage for eligible bachelors. He said a higher spirit from above instigated him to arrest the deity as the Nsukka based deity have rendered many people from the community useless, caused job and business losses, stopped many youths of marriageable age from settling down.
This very serious matter have left people pondering and asking what offense he committed.