How else can you reward loyalty if not to pay back core and committed party people by giving them the chance to serve and deepen their comittment to the party they love and has over the past years worked for it's successes with passion.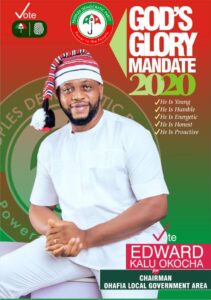 These core values and more are what has got people talking just about one man – Hon. Edward kalu Okocha who parades the best credentials in character and content to become the next Executive Chairman of Ohafia Local Government , Area.
Edward Okocha no doubt represents the youth identity, the quest, push and the desire of all Nigerians, including Governor, Okezie Ikpeazu to bring our teeming youths closer to governance and avoid the carnage like #ENDSARS# protest that rocked the country recently.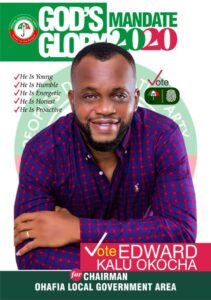 The Governor of Abia state has been identifying with the youths and his Government carrying out youth inclined programmes in order to give young people a place in governance and the economy and Hon. Okocha is the perfect match in this power equation – combing his youthfulness and loyalty to PDP over the years is a sure and perfect political equilibrium Ohafia needs now as he is at home with the stakeholders alike, you can call him THE BRIDGE.
Edward kalu Okocha was born on the 9th of August, 1979, and hails from Ameke, Abriba, Ohafia Local Government Area, Abia state.
Edward Okocha graduated from the prestigious Abia State University, Uturu, with a Degree in English Language and Literature.
After that, in his quest to be a perfect manager of resources, he again enrolled for another Degree programme in Economics.
There are too many things going for Edward Okocha, not just as a youth or party loyalist as the PDP Chairmanship primary takes centre stage. Edward is intelligent, respectful, a grassroots mobilizer, a libral vibrant youth, a visionary leader, he is charming and charismatic, a man of high moral values, reachable, an accountable personality that will lead Ohafia with the fear of God and bring development to his people and empower the youths, woman and take care of the Elderly.
He has been playing very recognised active roles in PDP from inception till moment in his Abriba clan, Ohafia Local Government and Abia State in general.
Edward Okocha is a grassroots mobilizer, loved by his people and indeed anyone that has come in contact with him would simply appreciate his friendly disposition and calm nature.
He is the founder, Abiriba Youth Forum, Cordinator, VOA ( Vote Ochendo Again), Member; Abia Reunion; LGA cordinator; POSITIVE FORUM; State Executive Member; IKPEAZU VISION RANGERS and others too numerous to mention.
In 2015, Hon. Edward Kalu Okocha put himself forward to run for the State House of Assembly Seat of Ohafia North but was advised by the party to bury his ambition and support the current House Member, Hon. Mandela Egwuronu Obasi, and he did not just obey the party, he worked hard for the emergence of Hon. Mandela Obasi – such rare character display.
Now, five years later, an opportunity has come to Abriba clan to produce the Executive Chairman of Ohafia LGA, this is why Edward Okocha's aspiration has gotten the endorsement of everybody in Ohafia Local Government and got them talking about this selfless party man and vows to ensuring his success.
At 40, Edward is the youngest aspirant and sure represents the "Youth O' Clock". He is the perfect quest for youth inclusiveness and his vision is to empower the youths and women, take care of the Elderly and make the entire Ohafia Local Government Area, better than he met it.
Ndi Ohafia – Edward kalu Okocha is your best choice