The Pro-Chancellor and Chairman Governing Council University of Calabar, Distinguished Senator Nkechi Nwaogu (PhD) CON has advised all the eligible citizens from 18 years and above to register and also update their already existing membership of the APC.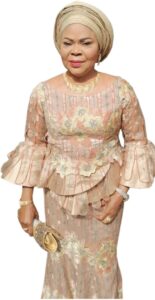 According to Ugonwanyi ndi Igbo who goes with the sobriquet Daa Nkee, she said there is no need pof playing Parochial style of Politics. We should join a political party with a national outlook. We use this opportunity to attract the desired Federal Government presence by joining the party at the center.
Ugonwanyi ndi Igbo also in the Press Release thanked President Muhammadu Buhari over the various ongoing projects across the South Eastern geo-political zone. We should recall that currently the Dualization of River Niger Bridge is on the fast track, already at the Federal Medical Center Umuahia the Federal Government 1.9 billion naira Radiology center is functioning, the construction of the Enugu – Port Harcourt Expressway is ongoing, Ariaria Market Electrification Project is currently distributing constant power supply to 37,000 shops in Ariaria international market. We should also remember that Port Harcourt -. Enugu – Benue – Maiduguri Railway line has been awarded. All these projects are to the credit of President Muhammadu Buhari led Federal Government. We haven't had it so good before in the South East. We are saying thank you Mr President.
Therefore, we are all urging our people to come out and register and re-validate membership of the biggest Party in Africa the APC to consolidate enjoying the dividends of democracy of APC Led Government in Nigeria.
JOIN THE PROGRESSIVE PLATFORM FOR MORE DIVIDENDS OF DEMOCRACY
Onyendi Victor Kelechi
Personal Assistant Media to Distinguished Senator Nkechi Nwaogu PhD CON
Ugonwanyi ndi Igbo
Pro-Chancellor and Chairman Governing Council University of Calabar.