Wild reactions have trailed the decision by a lady to call off her marriage because her fiancé insisted on her cutting communications with her former lover with whom she currently has a child.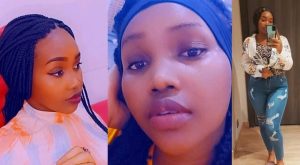 According to the Kenyan lady identified as Yvonne, she is not prepared to compromise on the bond that her daughter has with her father because she wants to please her current lover.
She explained that although her fiancé has assured her of his preparedness to care full responsibility for her and her daughter, hence the demand that she cut ties with her caring ex-lover, she didn't think it makes sense.
In a Facebook post which has got many people reacting, with some condemning her defiance, Yvonne said that the fact that she has broken up with her ex-lover doesn't mean her daughter should break up with him too.
"My Fiancé was good, he loves me, and has no problem with Taking care of me and my daughter Fully but there are things I can never compromise no matter how good you are to me…And one of them Is the relationship My daughter has with Her Father.
That has always been my rule. I broke up with my B.daddy but he didn't Break up with his child. The bond my daughter has with her dad is something I can never compromise just to make the man I'm dating feel nice.
My little girl has a very responsible father and I cannot break the bond they have just to get married or to fit your needs…" Yvonne wrote on Facebook.
She acknowledged that some women who are desperate for marriage willingly do things to make their lovers happy at the expense of their children and themselves, but she does not subscribe to such.
"I also understand many men date bitter single moms who are willing to even change their children's identity to that of the new man they are dating/married to. Many Single moms even change their sim cards. In worst cases, others even neglect their kids to make their lovers happy."
Yvonne went further to share a WhatsApp conversation with her fiancé in which she asked him to accept her decision or cancel the marriage.
Her post has left social media users divided as many people say she was wrong in insisting to keep her ex-lover in her life against the will of her current one, while others urge her to do what makes her happy.
What do you think ?