A financial Supremo and APC Chieftain,Lady Blessing Uwaoma Nwokonneya has felicitated will Senator Orji Uzor Kalu as clock the milestone 63.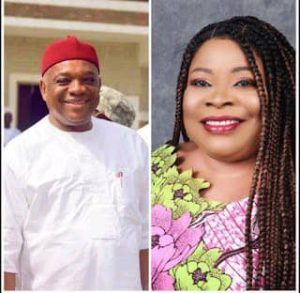 In a press release made public to the press, the AMCON Director says
"It is true that getting older is the best of all privileges when done gracefully. As you celebrate yet another important day in your eventful & exquisite life today Sir, may God be merciful to you as always and may His Grace find you worthy of more elevations, countless Victories and uncommon accomplishments. Okeosisi, celebrations will never seize in your home as I know that God will never forsake nor disconnect His grace from your life.
May this day bring you divine protection, unimaginable favour, everlasting joy, perfect peace and happiness.
I pray that you age gracefully accompanied with the best of health.
CONGRATULATIONS SIR!!!