There's currently unrest in Vikas Puri area of Delhi, India, as Nigerians protest the alleged brutal killing of a Nigerian man, identified simply as Anado, on Sunday, March 28.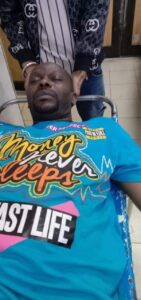 The deceased was said to have been arrested on Saturday night, March 27, on his way from a bar. The protesters alleged he was beaten to death in the early hours of Sunday and that the police also allegedly stabbed the deceased's friend, identified as Obilly in his stomach.
The protesters, have taken to the streets of Delhi on Sunday morning demanding to see the CCTV footage of the incident which the Police have refused to release.
Things however took a violent turn as both the police and protesters clashed on Sunday afternoon. According to a source, "We are going through a lot here right now. No one can go outside as I'm talking to you. The police have taken over the streets.
A lot of protesters were injured, others were arrested and right now, we don't know their whereabouts"