Born on 10 May 1960, Archbishop Nwachukwu was ordained a priest of the Diocese of Umuahia, in Nigeria, on 17 June 1984, and was later incardinated into the Diocese of Aba on 2 April 1990.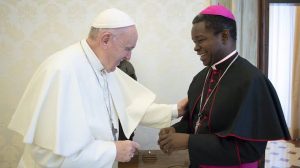 In 2012, Pope Benedict XVI appointed him as the Apostolic Nuncio to Nicaragua, and made him the Titular Archbishop of Acquaviva.
He later served in the Antilles from 2017 as the Apostolic Nuncio to Trinidad and Tobago, as well as to Barbados, Dominica, Jamaica, Saint Kitts and Nevis, Saint Vincent and Grenadines, and Guyana.
Archbishop Nwachukwu also took on the role of Apostolic Nuncio to Saint Lucia, Grenada, Bahamas, Suriname, and Belize in 2018.
In an exclusive discussion with Anastasia uchenna, Personal Assistant to the Arch Bishop , Oliver Ejeh explained that by this appointment, Arch Bishop fortunatus Can be likened to 4th in ranking to pope Francis. This Makes him a pro prefect ( someone who can sit in for the pope because he works and reports directly to the pope )
Arch Bishop fortunatus is the First black man to occupy the position.
Archbishop Fortunatus who is from Isialangwa North LGA of Abia state , is currently the Vatican Ambassador to the United nations in Geneva, World trade organization and other international organizations.
Effective May 15th , Fortunatus now becomes the brain behind the appointment of new bishops, creation of new Diocese , final decision of all local churches worldwide amongst other things.