A 20ft laden container has fallen on a commercial bus in the Ojuelegba area of Lagos State, crushing nine passengers to death.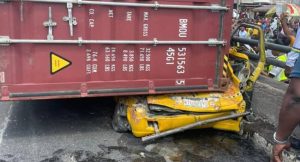 Investigations reveal that the commercial bus was picking up passengers at the bus stop along the Ojuelegba Bridge when the truck lost control and fell over the side of the bridge.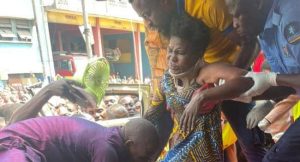 Early responders at the scene of the incident were the officials of the Lagos State Emergency Management Agency (LASEMA) who suspended the container and cut off the top of the bus to rescue a woman and take her to the trauma centre.
LASEMA Permanent Secretary, Olufemi Oke-Osanyintolu confirmed the incident.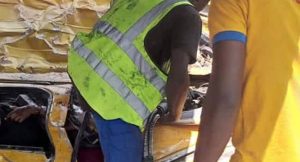 He explained that the nine victims recovered comprised four adult males, three adult females, a girl child and a boy child.
The Lagos State Traffic Management Authority (LASTMA) also issued a terse statement confirming the accident.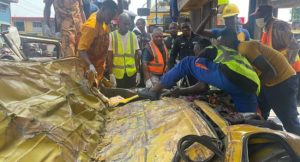 According to the agency, efforts are being made to rescue the victims.
"A container laden truck has fallen on a bus at Ojuelegba, inwards Fadeyi. The effort is currently being made towards rescue and evacuation," the statement read.
"Recovery of the fallen container is still ongoing, though it has been taken off on top of the minibus but is yet to be completely removed from the location, traffic is still on hold, and we have a backlog of traffic presently at Alaka.
"Kindly exercise patience or find an alternative if you are not trapped in the traffic."
It was gathered that some passengers were trapped because of the incident.
An eyewitness said that the truck driver wanted to block the bus from overtaking him.