ABUJA~ THE Independent National Electoral Commission INEC, have approved the deployment of five residents electoral commissioners to assist in the preparation and conduct of the September 19th governorship election in Edo state.
This was made know in an official memo signed by the secretary to the commission, Rose Oriaran-Anthony, exclusively obtained by Godswill Inegbe's Hub.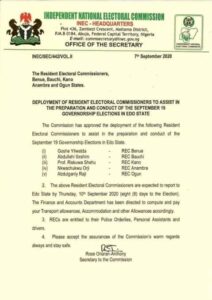 The names and states of the resident of the commissioners approved are:
(I) Goshe Yilwatda ~REC Benue.
(2) Abdullahi Abrahim ~REC Bauchi.
(3) Prof. Riskuwa Shehu ~REC Kano.
(4) Nwachukwu Orji ~REC Anambra.
(5) Abdulgainy Raji ~REC Ogun.
The above Resident Electoral Commissioners are expected to report to Edo State by Thursday, 10th September 2020 (eight (8) days to the election.