The Chairman of the All Progressives Congress (APC), Abdullahi Adamu, says the list of principal officers for the 10th National Assembly announced today by Senate President Godswill Akpabio and House of Representatives Speaker, Tajudeen Abbas is not from the secretariat.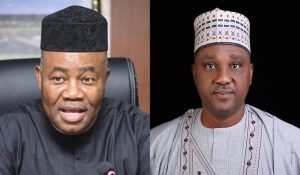 Adamu stated this today at a meeting with the Progressives Governors' Forum led by Governor Hope Uzodimma of Imo State, reports Channels TV
He said, "You will get an update of the National Election in the national assembly sharing of powers particularly the leadership of the chambers. The election of the principal officers of the Senate by the Senate President and Deputy Senate President. The election of the Speaker and the Deputy Speaker of the House of Representatives have been determined and announced and their responsibilities
"The remaining offices will be determined by the two chambers is yet to be done. I had a courtesy call on Saturday from the President of the Senate and his Deputy. The following day which was Sunday, I received the visit by the Speaker and his Deputy Speaker coming to me for Sallah's homage
"But, I am just hearing as a rumour now from the online media that there have been some announcements in the Senate and House of Representatives. The national headquarters of the party of the NWC has not given any such information or communicated about the choice of offices
"And until we formally resolve and communicate with them in writing which is the norm and practice, it is not our intention to break away from traditions. So whatever announcement is done either by the President of the Senate, Deputy Senate President, Speaker or Deputy Speaker, is not from this secretariat.
Earlier, Akpabio announced Senator Opeyemi Bamidele from Ekiti State as Senate Leader, Senator Dave Umahi from Ebonyi State as Deputy Senate Leader, Senator Ali Ndume from Borno State as Chief Whip, and Senator Lola Ashiru from Kwara State as Deputy Chief Whip
Akpabio also announced the names of minority principal officers
They are Senator Simon Davou (Plateau North – PDP, Minority Leader), Oyewunmi Olarere (Osun West – PDP, Deputy Minority Leader), Darlington Nwokeocha (Abia Central – LP, Minority Whip), Rufai Hanga (Kano Central – NNPP, Deputy Minority Whip)
In a similar fashion, Abbas announced Julius Ihonvbere (APC – Edo) as House Majority Leader, Halims Abdullahi (APC – Kogi) as Deputy Majority Leader, Bello Kumo (APC – Gombe) as Chief Whip, and Adewunmi Onanuga (APC – Ogun) as Deputy Chief Whip".