Frontline Candidate in the forthcoming gubernatorial Election in Abia State, Apostle Dr Ngozika Gladys Johnson-Ogbuneke has expressed her happiness and strong approval over arrangements to make sure that Nigerians in Diaspora are allowed to vote in the General Elections in Nigeria.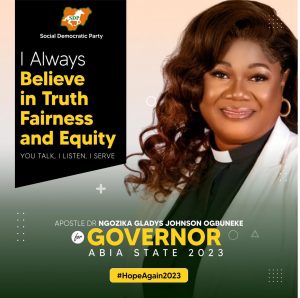 She disclosed this while fielding questions to the newsmen in Umuahia. She stated that this is a thing of progress, joy and happiness, that Nigerian citizens in the diaspora are allowed to vote and exercise their civic rights as with other progressive countries.
Citizens should not be disenfranchised when, perhaps they are not residing in Nigeria.
Recall that the clever and astute Gubernatorial Candidate played vital roles in 2020 during and after the #EndSARS Movement in helping to educate the Youths, to choose political and civil options to pursue their rights. She then did challenge the status quo which debars Nigerians in the diaspora from voting in national elections.
She has thus been promoting and making the clarion call for the inclusion of Nigerians in diaspora by the Independent Electoral Commission and National Assembly to pass a bill to include all Nigerians (home and in diaspora) to vote during the general election.
There are about 25 million adult Nigerians in the diaspora as per UN Statistical DATA of October 2020.
These Nigerians in the diaspora remit money into the country which build up to over 90% of the Nigerian annual budget value. It is only fair and just that their voices should also be heard, she submitted.
Dr. Johnson- Ogbuneke later called upon Senator Orji Uzor Kalu to acknowledge the efforts of others during these struggles. She welcomes the current moves and arrangements for Nigerians in the diaspora to vote as not only inclusive but also progressive to make for good nation building, she concluded.