A 22-year-old gas plant attendant, identified as Joy Uchechi Nwachukwu, was killed and buried by her colleagues in an attempt to steal money from the company.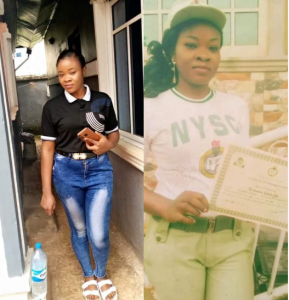 Joy Uchechi, who worked as an accounting officer in a gas plant in Imo State till she died, is said to have left for work on Monday, October 24, and hasn't been seen since then.
Her family raised alarm when they didn't see her or hear from her at the end of the work day, but her coworkers were unable to provide any information about her whereabouts.
Officers responded immediately after the family members reported the incident to the state's police headquarters under the lead of one pastor, Mrs. Precious Abara.
The police reportedly exhumed Uchechi's body after finding it in a shallow grave on the gas plant's premises during the course of the investigation.
It has now come to light that the lady was allegedly killed with a shovel by her coworkers, and that her body was buried in the premises of the gas plant, which is located at Toronto/Road Safety Road, MCC Owerri.
In relation to the crime, two suspects, including the manager, have been detained and are being interrogated.
A family source told The Guardian:
"The suspects killed her because they wanted to collect all the money made from sales in the company since last week. We understand she normally makes deposits into the company's bank account every Tuesday, being the accountant of the company."
Michael Abattam, a spokesman for the state's Police Command, confirmed the incident and stated that the Command is still investigating it. Once the investigation is over, the suspects will be charged to court.
Abattam said;
"Already, two suspects in connection with the gruesome murder of the victim have been arrested and two others are still at large, while efforts are on towards arresting the fleeing suspects. Suspects will be charged to court after investigation."