Our attention has been drawn to an information online about the purported suspension of Senator Nkechi Nwaogu by Mr Ikechi Emenike faction of the APC while we are not perturbed about this because the allegation is baseless, spurious and unfounded. We have decided to let the whole world of APC know what happened during the last General Election in Abia APC.
A popular adage goes that silence is golden but in this particular situation it is necessary to state the records straight as what actually played out in Abia APC as silence is no longer golden now.
Senator Nkechi Nwaogu PhD, CON was appointed Director (South East) Parliamentarian APC Presidential Campaign Council and also appointed Abia State Coordinator for Women Tinubu/Shettima Women Presidential Campaign Council. She and her women campaigned vigorously for His Excellency Sen. Bola Ahmed Tinubu, President-Elect Federal Republic of Nigeria and is among the chieftains of the party that is still funding the party in Abia State since 2015. It is on record that Senator Nwaogu financially supported the APC candidates for Senate in Abia Central and House of Assembly Osisioma Ngwa South State Constituency in the just concluded election. She campaigned with women and Parliamentarians in Abia State intensifying campaign for the APC. She and women also went to the Zonal campaign at Owerri, Imo State Capital.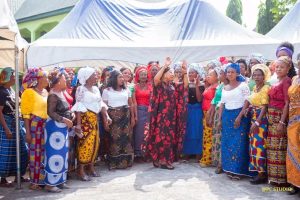 It beats our imagination that a Governorship candidate that failed in his polling unit, failed in his ward and failed scandalously in his Local Government in the Presidential election and lacks political value is saying that Sen. Nwaogu worked against the party. We are challenging Mr Emenike to show us the result of the Presidential election in his polling unit. It is on record that Mr Emenike colluded with the Labour Party to work against the presidential candidate of our party.
Ikechi Emenike was only interested in the Presidential Campaign Council fund and to position himself for the ministerial slot which is the reason he didn't want to work with any member of the APC Abia.
Most political parties in Abia campaigned in the whole 184 political wards in the state and even went on to sensitize various town unions, religious organizations and pressure groups that are domiciled in Abia but unfortunately Emenike didn't do that.
We are calling on the APC National Executives to ignore the purported suspension of Senator Nkechi Nwaogu PhD CON because she campaigned and supported APC in the last General elections and we are also pleading with them to look into the party structure in Abia state because Ikechi Emenike has killed the party in Abia.
We are warning Mr Ikechi Emenike to leave Senator Nkechi Nwaogu PhD CON alone and face his total rejection by the Abia electorates because he has caused enough damage in APC Abia State. Ikechi Emenike is a political dreamer
Kelechi Boms
Member APC Presidential Campaign Council New Media