Youths benefiting from the IFAD LifeND program at Obi Mbutu Community Isiala Ngwa South in company of their Incubator and Mill Operator Lady Gloria Agomuo aka Agunwanyi recently paid an unscheduled Thank You visit to Hon Amanze Israel Izybest, Oke Orji Abia and Program Manager Abia ADP in his country home at Amankwo Mbutu Ngwa.
The aim of the visit was to appreciate and thank Chief Amanze Israel for attracting and facilitating the program which has already recruited youths from Mbutu as Incubatees. Agunwanyi informed Hon Amanze and
Mbutu Stakeholders gathered to receive them that the first set of incubatees will graduate next month after which the IFAD project will establish and equip mills and business units for them to automatically become job creators. He called on Mbutu people to thank Chief Amanze for putting them on World Bank map.
In his speech Hon Amanze thanked Agunwanyi and the incubatees for remembering to say thank you and for publicizing the source of their joy which many people who have had similar opportunities in the past did not do.
He thanked The governor of the State Dr Okezie Ikpeazu and the staff and Management of Ifad LifeND for the opportunity.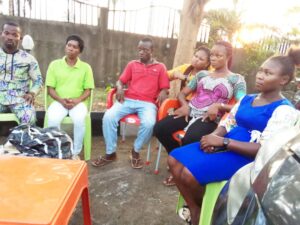 He further informed Mbutu people that IFAD will not only empower youths and women but will fix critical infrastructures like roads, markets and other critical infrastructure in Mbutu.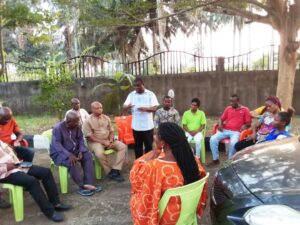 He also informed them that another set of incubatees will come on board after this set.
In his speech Hon Remijus NJI, Chief Peter Egwu Onwumelu , Alloy Ozurumba and CASSIDY Nwankudu thanked Chief Amanze for the numerous development projects he has brought to Mbutu and as well thanked Agunwanyi and the youths for remembering to be grateful. The occasion was witnessed by many youths and stakeholders from Mbutu Ngwa.