Without a doubt, Sunday Igboho is a man walking on a tight rope after he gave Fulani herdsmen in Ibarapa a seven days notice to vacate the land after accusing them of killing Yoruba people.
Yesterday, Mohammed Adamu, the Inspector-General of Police, ordered the arrest of Yoruba activist Sunday Adeyemo alias Sunday Igboho over the eviction notice he issued to herdsmen.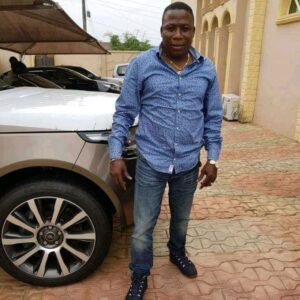 The video of Sunday Igboho bragging that the police can't arrest him also surfaced online and has been generating mixed reactions among Nigerians.
According to the news shared today, it was reported that Sunday Igboho had an interview with a popular broadcaster who is Identified as Kola Olootu. The purpose of the interview, is to know why Sunday Igboho gave Fulani Herdsmen a Quit Notice to leave Ogun State.
The interview goes like this:
Kola Olootu: We heard that you have been arrested, is that true?
Sunday Igboho: God forbid, I was not arrested.
Kola Olootu: You said that some people were trying to threaten you?
Sunday Igboho: I am being intimidated by some people but whoever will kill or bring me down must be well fortified. According to him, no one can kill him unless the person is fortified.
Kola Olootu: What was the reason for the ultimatum that you gave the Fulani herdsmen?
Sunday Igboho: The reason for that was the incessant attacks on our people in the Ibarapa and Oke Ogun areas of the (Oyo) state. Our people are no longer safe in their own land. Sunday also said that a Yoruba Man can never go to the north and start killing people or destroying their property.
Kola Olootu: We learnt that when gunshots were fired at you, the bullets did not penetrate, is that true?
Sunday Igboho: That shows the efficacy of the Yoruba traditional power. According to him, bullet can't penetrate because he uses Yoruba traditional power.
Above are the few important questions I picked from the interview. According to Sunday Igboho, he doesn't have children based in Nigeria that the Fulani Herdsmen will kidnap or kill. He said that he is doing everything for the safety of everyone.