A mother of three in Enugu, Mrs Chinyere Uzowulu, tells RAPHAEL EDE that she has become homeless with her children, after her divorce-seeking husband, Chief Afam Uzowulu, a former Depot Manager with the Nigerian National Petroleum Corporation, allegedly set their house and belongings ablaze in December last year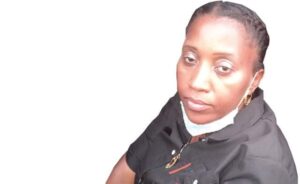 What is your name?
My name is Mrs Chinyere Uzowulu.
What do you do for a living?
I am a doctor in training.
When did you get married to Chief Afam Uzowulu?
I got married to him (Uzowulu) in 2007.
How many children did you have together and how old are they?
I have three children, two boys and a girl.
For how long were you married before you began to have disagreements?
We began to have disagreements six years into our marriage.
Who filed for divorce?
He filed for divorce.
What did you do to him that made him file for divorce and packed out of the house and left you and the children?
I did nothing to him, to the best of my knowledge. What happened was that he came back one day and requested in writing to me that I should submit 50 per cent of some money which a certain prophet, one Ada Zion in Aba, Abia State, told him that I had. It was his younger sister who took him there (to Ada Zion). He (my husband) said that Ada Zion prophesied (told him) that I had over N200m in my control; he believed this and insisted that I must give him 50 per cent of that money. And in the course of his making the demand, he started sending some people after me to threaten and frighten me. The people were getting information about my movement through him and were trying to frighten me. So, I reported them to the police to trail them with the help of MTN. They were caught and brought to the disbanded Special Anti-Robbery Squad under the late Jude as Commander.
Upon interrogation, the suspects confessed that they were engaged to do that by one Chief Afam Uzowulu, my husband. They told the police that they were given just my number and they didn't know me and my relationship with him. So, the police later arrested him (my husband) and he wrote an undertaking (along) with the suspects. After he came back, he packed all his belongings and left for another of his houses, because he has many houses and a hotel in different places, including Lagos.
You alleged that he recently returned to the house and set it on fire. How are you sure he was the one who burnt the house?
I got information from the neighbours and the CCTV in the house equally captured him while he carried out the malicious destruction of my belongings and the properties of my children that I acquired for my children over eight years of living alone and caring for the kids. I got information he engaged three of his hoodlums to bring out our boxes, the children's shoes and mine, books and certificates to the middle of the compound. The people in the neighbourhood and his hoodlums selected all they wanted from our belongings and carted them away. And after this, he set the rest on fire.
But before setting our property ablaze I got the information and went to the State Criminal Investigation Department to inform them that he was about to burn some of the properties. The Investigating Police Officer, one Ufete, said I should wait for his boss to give him permission before he could come with me along with other policemen. Two staff members of a non-governmental organisation, Women Aid Collective, that I had reported the case to were also present.
We left and went back to the police station later to pick the IPO after he said he had got permission that he should come with us. But when we got to the house, we found that everything had been burnt down and reduced to ashes. The police and WACOL staff members took the photographs. The policeman then went to my husband's hotel, Victoria Gardens Hotel, to look for him to serve him a letter of invitation. To my utter surprise, at the hotel, I saw some of my newly-purchased seats. The policeman made a video recording of the seats packed at that hotel to confirm that they are mine. They equally took pictures of them.
Before he packed and took away my newly-purchased property, including electronics, he destroyed my cars and towed them away. But I have recovered one with the help of the new Commissioner of Police in Enugu, Mr Mohammed Aliyu, who insisted that justice must be done in this case and ordered him (my husband) to produce the cars.
Where exactly were you when the house was being set ablaze?
I travelled with the kids for Christmas break when he came on December 18, 2020, to pull down the fence of the house and the gate. He equally removed the roof and ceiling. That incident was widely reported by the media.
What do you think he wanted to achieve by allegedly burning the house and taking away some of your belongings?
I believe his motive was to make sure he cleared all that belong to us from the house, to enable him to eject us. I believe he wanted to give the impression that our belongings were not in the house. And of course, that is what he is claiming now at the police station. He is claiming that I had moved all my belongings from the house by myself; that when he got there, he met the place empty and only swept it. I believe he wants to sell off the property. And he is currently making effort on that.
How are the police treating this case?
As I said earlier I have reported the case to the police and they are on the case. I forwarded the CCTV footage transmitted to my phone to the police. But they claimed they could not do much to him (my husband), saying he appeared sick.
But the new Commissioner of Police, Aliyu, has made it clear that he would not be a part of any evil against anybody in the state. The CP has instructed that the kids and I should be given maximum protection while we remain in our residence at No. 3 Uzowulu Street, New GRA. The CP told Chief Afam Uzowulu's lawyers to advise him accordingly. He reminded them that invasion, destruction or vandalism are all crimes against the state which the police would not condone.
With the assurance of protection by the police, have you now gone back to the house?
No, the house has been vandalised. At the moment, my children and I are homeless. I am squatting with a friend.
Copyright PUNCH.