As for what I have been able to achieve for my constituents, it may not be possible to list all of them here. But let me quickly say that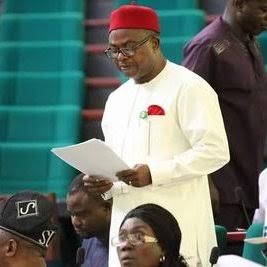 the rehabilitation of the failed sections of the Umuahia-Ikwuano-Ikot Ekpene Federal road between 2016-2017 was attracted by me.
I have followed up and as I write, the contract for the total reconstruction of that road has been awarded and work is ongoing.
I have also constructed blocks of classrooms in Afugiri,
Old Umuahia,
Ekebedi,
Nsirimo,
Olokoro;
built health centers at Oloko and Obuohia Ibere;
done two massive erosion control works at Amachara and Okwe-Obuohia Road;
built the Itunta-Elemaga Bridge;
carried out massive water projects at
Inyila,
Obuohia,
Obunta,
Avonkwu Ibeku, etc;
electricity projects at Obuohia,
Usaka;
donated transformers to many communities including
Ndoro,
Agbama,
World Bank Housing Estate Umuahia,
Obuoro,
Umudike,
Umuariaga,
Amaeke junction;
building of a nine-unit Skills
Acquisition Centre at Apumiri Ubakala;
trained and distributed empowerment materials such as
motor bikes,
sewing machines,
grinding machines,
start-up capital, etc, to over 300 beneficiaries;
continue to sustain my scholarship programme;
have provided employment for tens of persons from my constituency,
currently facilitating the building of a Federal Secretariat for Abia State,
currently facilitating the construction of a new federal road that links Abia with Akwa Ibom through Ikwuano(Okwe-Obuohia-Nkari Road) among many other things.
Recall that long before I joined politics, I have been involved in community development.
It is on record that as early as 1998, I facilitated the building of a block of classrooms in my village and founded a secondary school— Ambassador's College, Obuohia Obi-Ibere— which was commissioned by then U.S Ambassador to Nigeria, Franklin Jeter and former Governor of Abia State, Dr. Orji Uzor Kalu.
When a professional with a genuine desire to serve ventures into politics, he or she leverages on his/her contacts, experiences, and desire to serve and thus does more for the people.
This conversation is not just about me, so no need for me to continue to list my humble contributions to governance and the good of our people.
My point really is that if we can make it so that professionals such as yourselves can see the need to join us and help make this country better, won't that be for the good of our country? Instead of making the profession so distasteful and leaving it in the hands of some unqualified and uncommitted persons.
Hon. Sam Onuigbo
Representing UMUAHIA IKWUANO FEDERAL CONSTITUENCY, HSE of REPS.