Your Excellency Sir!
Digital Governor of Cross River State,
Senator Benedict Ayade, KSJi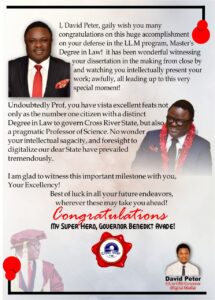 I, David Peter gaily wish you many congratulations on this huge accomplishment on your defense in the LL.M program, Master's Degree in Law! It has been wonderful witnessing your dissertation in the making from close by and watching you very intellectually present your work; awfully, all leading up to this very special moment!
Undoubtedly Prof! you have vista excellent feats not only as the number one citizen with a distinct Degree in Law to govern Cross River State, but also a pragmatic Professor of Science. No wonder your intellectual sagacity, and foresight to digitalized our dear State has prevailed tremendously.
I am glad to witness this important milestone with you, Your Excellency!
Best of luck in all your future endeavors, wherever these may take you ahead!
Congratulations to My Hero, Benedict Ayade!
Signed:
David Peter
SA to CRS Governor on Digital Media