This was disclosed on Saturday during one of the regular briefing sessions by the program manager in a meeting with Mbutu Amairinisii youths, community representatives and stakeholders.
Speaking during the meeting Chief Israel Amanze informed the Youths and Ndi Ezes and representatives that two communities Anya Mbutu and Nmala Mbutu have been keyed into the project which will empower a minimum of 80 people in addition to intervention in critical market infrastructure at Eke Onye Ugba as well as Agro Processing facility at Nmala Mbutu for the benefit of the people in Mbutu.
He reminded Ndi Eze of existing understanding he has with them that such projects will not discriminate against Ndi Mbutu and charged them to receive the visitors warmly and show them hospitality when they visit later this week.
He also informed them that other projects are scheduled to be implemented in Mbutu by other government agencies before the year ends.
Chief Amanze informed Mbutu people that the Senator representing Abia Central , Senator TA Orji has approved to renovate some structures at Mbutu Ngwa secondary School.
On road he told the people that though we look unto the Local Government Authority to do the needful in grading our roads an intervention is being worked out which may manifest soonest.
He later urge them to remain Committed in the Support of the present Government which he said has done tremendously well in the upliftment of the state.
In his response, the President Mbutu Ngwa Redemption Youths Hon. Ugochukwu Onwumelu expressed satisfaction with the astute performance of Chief Amanze which according to him is unprecedented and advised him not to relent or be deterred but remain focused and dedicated.
The chairman if Abia Grassroots Movement Mr Chukwudi Adiele, Christopher Chigbu, and many other speakers urged Chief Amanze to remain focused and refuse to be distracted that Mbutu people are watching.
While speaking HRH Eze Nwokonko and HRH Eze Nduka Aja praised Chief Amanze for impacting positively on the lives of his people.
Mr Izuchukwu Ugbogu thanked God that through the recommendations of Hon Amanze he is now the Fadama NCARES facilitator for Isiala Ngwa North LGA.
High point of the meeting was the arrival of Mr Chinedu Amadi
from Nneise Nvosi with his people and well wishers with gifts to Thank Hon Amanze for training and empowering him. He recounted how his people benefited from Sure P through Chief Amanze, received a motorized borehole in their community and Science Equipment for Nneise Sec School. And said he came with the crowd for appreciations.
An elated Eze Nwokonko eulogized him for openly appreciating what was done for him while the same gesture has been extended to Mbutu people which rather than appreciate they deny.
He prayed and poured libations for Mr Chinedu Amadi and his wife and entourage and blessed Chief Amanze for blessing others.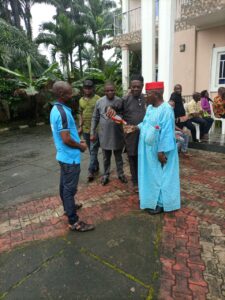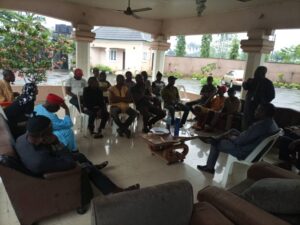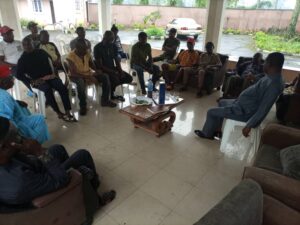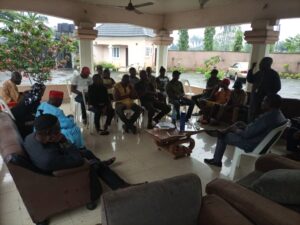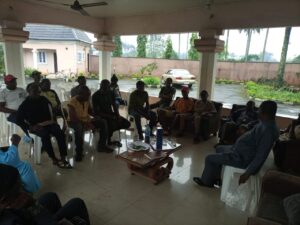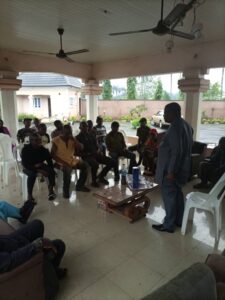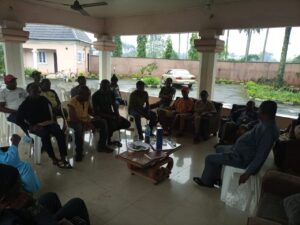 Video
For publication of your news content, articles, videos or any other news worthy materials, please send to newsmirror14@gmail.com. For more enquiry, please call +234- 808-050-9464 or whatsapp. To place advert, please call +234- 808-050-9464.