IT was drama in Warri as a Sienna driver (name withheld), bit off the ear of a Vehicle Inspection Officer, VIO, identified as Papu Prosper during an argument while they were on patrol in Warri, Delta State.
It was gathered that the incident followed an argument over expired vehicle particulars in the early hours of Friday on Eagle roundabout, by Federal Government College, in Warri.
According to Prosper, "I am a Vehicle Inspection Officer, VIO. We went for a patrol team in Warri, Delta State, where we held a driver, whose particulars have expired. In the process, my boss told me to follow him to our office in Warri to check whether his particulars were up to date or not.
"While following the man, he said he will kill me, that the VIO has done a lot. So, he brought out a dagger and was trying to stab me. I struggled to move out of the vehicle as the vehicle was on speed.
"In the process, I fought him and he bit off my ear and my ear fell on the ground."
Prosper added that the Sienna driver came out of the car and ran away after the act, leaving his car behind.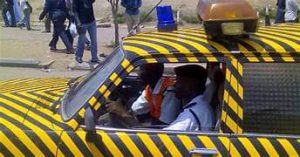 While the Sienna is under the custody of VIO, Prosper thanked God for saving him as he called on the government to do justice in the matter, whenever the Sienna driver was caught.