The 36 States and FCTFocal Persons have commended the Honourable Minister of Humanitarian Affairs, Disaster Management and Social Development for appointing a through bred expert to man the office of National Programme Coordinator for the Conditional Cash Transfer Programme.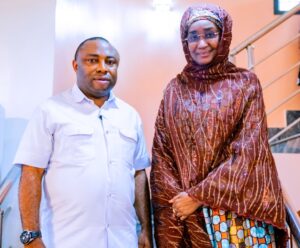 They also expressed delight on the marching directive to the new NCTO NPC to immidiatley commence payment of arrears owed to beneficiaries of Conditional Cash Transfer Programme across the country.
The Focal Persons used the opportunity of the launch of GEEP 2.0 to meet with the minister to express their satisfaction for her leadership of the programme. They further expressed their appreciation to Mr President for sustaining the Social Investment Programme even under harsh economic conditions.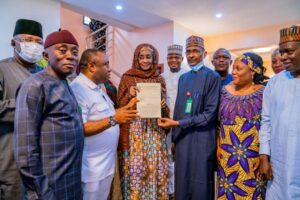 Speaking on behalf of his colleagues Mr Chinenye Nwaogu, Secretary of the Forum of Focal Persons used the opportunity to request for more support to States and opportunities for Nigerians under the National Social Investment Programme.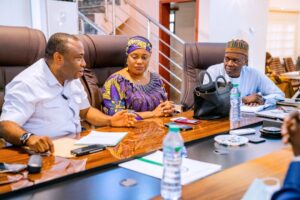 The Minister in her response thanked the Focal Persons for their avowed commitment to implement the programmes in the States. She maintained that the Focal Persons remain strategic partners in ensuring that these programmes gets to the target beneficiaries.
She commended the state Governors who have adopted these programmes in their states pointing out that those Governor are providing effective and impactful leadership in their states. The Honourable Minister stated that some Focal Persons have singled themselves out through their sterling performance in implementing the Programmes in their states. The Minister was joined in the meeting with Focal Persons by the Permanent Secretary Mallam Nura Bashir and the National Coordinator of NSIP Dr Umar Bindir.
The high point of the meeting was when the Secretary formally presented the commendation letter to the Minister on behalf of the Focal Persons.