No fewer than 13 states have been told to brace for heavy floods between now and next month.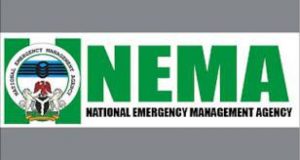 The National Emergency Management Agency (NEMA), which flagged the yellow card, urged governments in the identified states to stockpile food items and evacuate those living in coastal communities to avoid disaster.
The agency said three dams – Kainji, Shiroro and Jebba would soon overflow following the opening of Lagdo Dams in Cameroon.
It listed the states as Adamawa, Taraba, Benue, Niger, Nasarawa, Kebbi, Kogi, Edo, Delta, Anambra, Cross River, Rivers and Bayelsa.
Flood is wreaking havoc across the country as the rains intensify.
Over 300 persons have been killed, 500 seriously injured, 100,000 displaced and 500,000 affected by flooding in 29 states, according to NEMA.
A man was swept off by flood at Abule Egba, a Lagos community early yesterday.
Passersby were seen in a viral video trying to rescue him.
An eyewitness said: "The flood must have been sweeping him from a different location because it was just his hand that we saw inside gutter.
"He was waving for help and we tried to pull him out, but we couldn't. I think debris hacked him down. It was slippery and the force of the water was massive."
In Adamawa State, a major highway, the Yola-Mubi road, was flooded.
Vehicles could not get from Yola to Song, Gombi, Hong and the other towns and communities northwards, including Mubi, Maiha, Michika and Madagali.
The flood covered a long section of the road between Girei and Jabi Lamba in the Girei Local Government Area, making it impossible for any vehicle to pass either towards Mubi or Yola.
The flood cut off the highway near Jabi Lamba, with some houses, shops and schools almost submerged.
Flood also sacked many communities in Nasarawa State, with the House of Assembly urging the state government to provide relief materials to victims.
The Speaker, Ibrahim Abdullahi, read the House resolution after the Majority Leader, Tanko Tunga, raised the issue under matters of public importance.
Abdullahi said: "I have also directly been affected as 50 per cent of my people are living in riverine communities.
"Many lives, animals, buildings, farm lands among other properties have been lost or destroyed.
"Many communities across the state affected by the flood are homeless.
"I want to call on the state government to provide relief materials to the flood victims without delay.
"I also want to call on the state government to relocate communities affected by flood to safer places for their comfort and to improve their standard of living."
The Speaker urged the state government to provide more funds to the Nasarawa State Emergency management Agency (NASEMA) to enable the agency discharge its duties effectively.
NEMA asked Adamawa, Taraba, Benue, Niger, Nasarawa, Kebbi, Kogi, Edo, Delta, Anambra, Cross River, Rivers and Bayelsa states to prepare for the worse.
Its Director General, Mustapha Habib Ahmed, spoke at an emergency technical meeting on flooding in Abuja.
He said: "So far, it is on record that 29 states, including the FCT, have experienced heavy flooding with more than 500,000 persons already affected.
"Our records indicate that more than 300 lives have been lost, over 500 persons are seriously injured with more than 100,000 others displaced and living either in temporary shelters including schools, other public buildings amongst benevolent host families."
Ahmed believes the discharge of water from the Lagdo dam compounded the problem.
He said: "Based on our communication with the Nigeria Hydrological Services Agency (NIHSA), the Lagdo dam operators in the Republic of Cameroun have commenced the release of excess water from the reservoir by 13th September, 2022.
"We are aware that the released water cascades down to Nigeria through River Benue and its tributaries thereby inundating communities that have already been impacted by heavy precipitation.
"The released water complicates the situation further downstream as Nigeria's inland reservoirs, including Kainji, Jebba, and Shiroro are also expected to overflow between now and October ending according to NIHSA.
"According to NIHSA, Kainji and Jebba dams have already started spilling exess water from their reservoirs.
"This will have serious consequences on frontline states and communities along the courses of rivers Niger and Benue.
"These states include Adamawa, Taraba, Benue, Niger, Nasarawa, Kebbi and Kogi.
"Niger Delta states including Edo, Delta, Anambra, Cross River, Rivers and Bayelsa are expected to record heavy floods due predicted above normal rains coupled with the combined waters of rivers Niger and Benue as they empty into the region.
"The situation requires urgent attention of all stakeholders to match this early warning with early action.
"Consequently, I want to advise all the governments of the frontline states to move away communities at risk of inundation, identify safe higher grounds for evacuation of persons and preposition adequate stockpiles of food and non-food items, portable water, hygiene, safety and security to enable them a fair level of comfort during periods of possible displacement.
"These actions become necessary as we collectively work towards a lasting solution to the annual threats of floods. I also call on the media to support NEMA in the sensitisation of the public to enable them comply to early warning messages effectively.
"I implore the media, which has always proved to be a reliable partner of NEMA, to give us all the necessary support including communication in local languages."
The NEMA chief said the organisation was monitoring the situation and would consider the activation Emergency Operation Centres (EOCs) to coordinate the flood disaster response in all the states at risk.
Ahmed sought the support of state governments, especially through their State Emergency Management Agencies (SEMAs) and other critical state level actors.