Members of the Abia State Vigilance Group have arrested a man, Chidi Nkire, for allegedly defiling three of his underage children at their residence in the Obingwa Local Government Area of the state.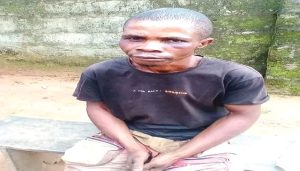 Magic FM gathered that the illicit act reportedly started after Nkire sent the victims' mother out of their matrimonial home following a disagreement.
Narrating how Nkire was arrested, the secretary of the vigilance group, Victor Ogidinta, said members of the vigilance group, on Friday, acted on a tip-off from a concerned citizen about how Nkire had been allegedly defiling his daughters, aged 14, 12 and eight.
Ogidinta explained that on arriving at Nkire's house in the Obingwa LGA of the state, they realised he had absconded to a neighbouring village but was eventually caught at a hideout in a neighbouring community.
He said, "We got an intelligence report that an individual was perpetrating such an ugly act and we immediately swung into action that day. Unfortunately, the man absconded to a neighbouring community, but he was later traced to where he was hiding in Osisioma Ngwa local government.
"He started this activity last year. He had issues with their mum and chased her out of their matrimonial home. Following their separation, he forcefully slept with his children. He threatened them, threatened their lives. At a point, he starved the children till they agreed to sleep with him. The fact is that the man is cooperating. He has not in any way denied any of the acts to date."
Ogidinta added that after the case was reported at the police station in the area, the case was transferred to the State Criminal Investigations Department in the Umuahia area of the state.
In a video clip seen by our correspondent, Nkire, while confessing to carrying out the ungodly act, blamed his action on the devil and the unavailability of his wife to fulfil his sexual desires.
"I did a bad thing; it's the devil that caused it. I didn't know that that is how it used to be," he said in the video clip.
Confirming the case, a highly placed source in the Abia State Police Command, said, "It has been reported to the State CID. The Force is aware and discreet investigations into the matter have begun."