Labour Party (LP) presidential candidate, Peter Obi defeated Bola Tinubu of the All Progressives Congress (APC) in the February 25 poll, according to British Broadcast Corporation (BBC) report.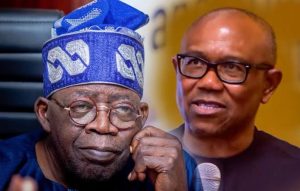 Confirming that some results of Nigeria's 2023 presidential election were altered, the report detailed how anomalies in Rivers contributed to the emergence of the All Progressives Congress (APC) Bola Tinubu as president-elect.
Accessing results amassed by Tinubu and Peter Obi of Labour Party (LP) in the State, the BBC found that results obtained from polling units across the state differed from what was announced by the Independent National Electoral Commission (INEC).
According to BBC, Tinubu did not garner the most votes in the state.
After reviewing results from over 6,000 polling units, the BBC said, "We found an increase of just over 106,000 in Mr Tinubu's vote in the official declaration when compared with our polling station tally – almost doubling his total in the State.
"In contrast, Mr Obi's vote had fallen by over 50,000."
In Oyigbo LGA, BBC found that Obi amassed almost 20,000 votes, while Tinubu was unable to secure up to 5,000 votes, but in the declared results, Tinubu's numbers were above 15,000, while Obi's was less than 13,000.
The second local government area with major discrepancies, according to the BBC, was in nearby Obio/Akpor:
The official result for Mr Tinubu was 80,239 votes, but they counted just 17,293 votes from polling station tallies.
The count for Mr Obi was announced officially as just 3,829 votes, but the BBC counted 74,033 votes for him on the tally sheets.
The identity of Dickson Ariaga, an INEC electoral officer who announced his name as someone who worked for the Federal College of Education in Omoku, remains an unsolved mystery though.
Ariaga, on February 27, announced the controversial results in Oyigbo LGA.
"We sent a reporter to the Federal College of Education in Omoku, about two hours drive north of Port Harcourt, where he'd said he worked when introducing himself.
"The Deputy Provost Moses Ekpa told the BBC: 'From our records, both from our payroll and from our human resources, there is no such a name in our system and we don't know such a person'," the BBC said.
The media outfit said it hit a brick wall in its attempts to reach Ariaga, his relatives and the INEC for comments, leaving his identity and role in the electoral process an unsolved mystery.
Several parties involved in the March 25 election have already petitioned the election tribunal to seek redress, and chief amongst them are Peter Obi and Atiku Abubakar, the candidate of the Peoples Democratic Party (PDP).